India's first Anger Management Cafe in Indore!
Friday - April 28, 2017 1:13 pm ,
Category : WTN SPECIAL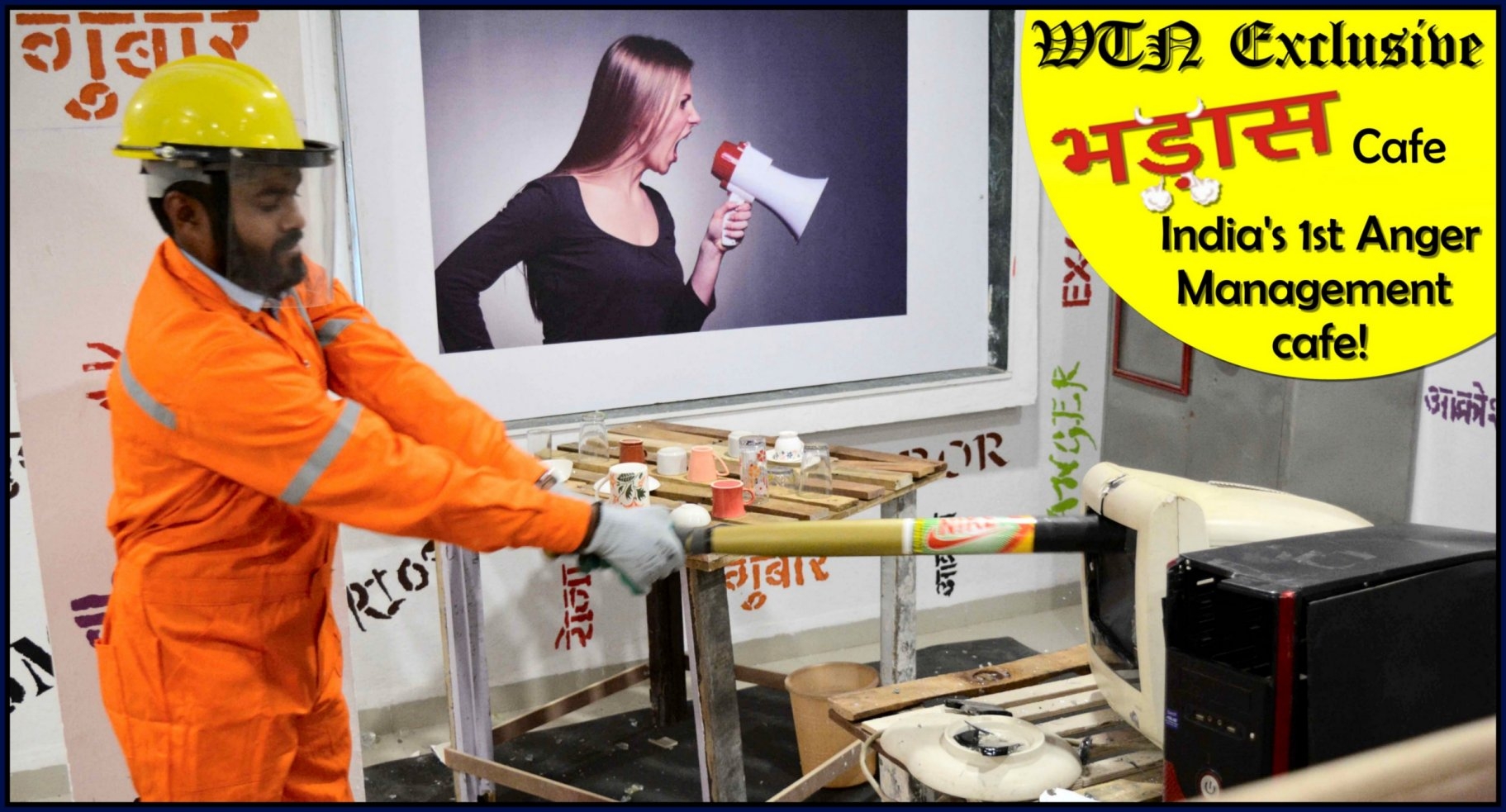 ---
Being angry or irritated is basic human nature; there could be many reasons for being angry. Job sucks, boss insulting you, domestic misunderstandings, financial issues, being dumped by your girlfriend etc. Generally what happens is that a person comes out with this irritation or frustration on loved ones at home or friends who are actually at no fault. Just to maintain our personal & professional relations we suppress our wishes which after a period of time take the form of anger & frustration.
Indian mythology says that anger destroys a person's capabilities and makes the brain take decisions which normally are avoided when a person thinks sanely; it brings out the animal instinct in a person. Anger kept within oneself could be harmful for the health and could lead to various ailments like high blood pressure, heart attacks or even severe headaches, and in a fit of rage if a person starts breaking things at home or hitting any family member it could also put an end to relationships and lead to things like divorce or an unpleasant atmosphere. Normally people look for a lonely place where they could sit and spend some time to overcome the feeling of anger and return home with a calm mind. But yes! the pain of being played with will always remain in the subconscious mind and make you feel miserable about everything, It could end up giving you a major inferiority complex.
Now this is where 'Bhadaas Café' comes to the rescue! The first of its kind in India to manage your anger and relieve your stress which will in turn let you walk out relaxed and happy. How?
Atul Malikram's unique project which is known as the Bhadaas Café is launching on the 6th of May in Indore, Atul Malikram claims it to be the one and only café all over India which would offer you a unique anger management resolution along with your cup of coffee!
Atul Malikram says,
"Soon we are launching this cafe where you can express your anger, feelings & will throw all bad thoughts, ill feeling out of your body & mind. We will provide you with various articles to break under security supervision if you want to abuse anybody, want to scream, cry, we will provide a corner for you where no one is watching. If you have personal issues with someone you could use a mannequin to express your anger. Such activities will help you to throw out your depression, anger, frustration from your mind & keep your mind peaceful & happy."
In cities like Texas, Melbourne, Dallas such anger rooms are running successfully. Where people walk in with a frustrated mind & walk out with a smiling & contented face. This initiative will help youth and other to eliminate ill feelings, could also put an end to college fights and mostly domestic violence. The stuff which you actually break here would be mostly things like scrapped televisions, refrigerators, crockery, old computers etc. which ofcourse would have a negligible price tag to it which you would end up paying at the end but hey! Who would let you smash their computer for 10 bucks? You wouldn't dare to do it at home or office for sure, but Bhadaas Café gives you the opportunity to do so.
Keep reading Window to News for more exclusive information on the upcoming Bhadaas Café and much more…
Sameer for WTN EXCLUSIVE

RELATED NEWS
July 22nd, 2018
July 22nd, 2018
July 22nd, 2018