Omurice Omelet with Fried Rice
Thursday - June 14, 2018 11:06 am ,
Category : RECIPES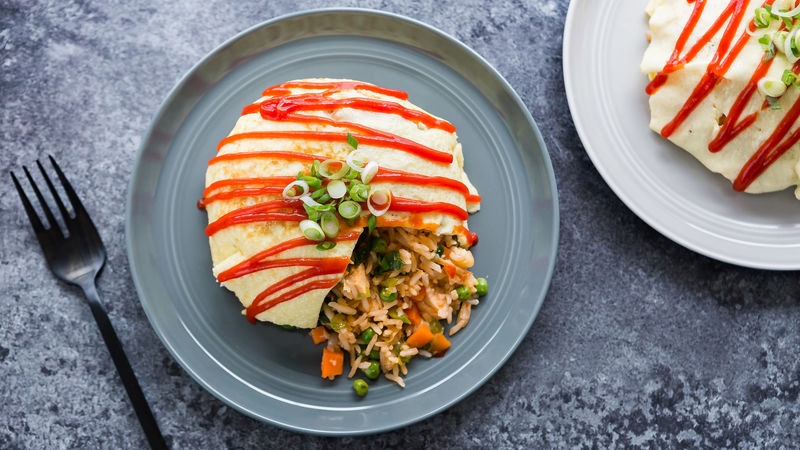 ---
Ingredient:

1 1/2 tbsp sesame or olive oil
1/2 cup shredded cabbage
1/4 cup chopped cooked chicken
1/4 cup green onions
3 tbsp frozen peas
2 tbsp finely diced carrots
1 container (10.6 oz) ready-to-go sticky rice (such as Hinode Heat & Serve white rice)
1 tbsp oyster sauce
6 tbsp Sriracha ketchup (or equal parts Sriracha sauce and ketchup)
4 eggs
1/4 cup half-and-half
1/4 tsp salt
Nonstick cooking spray

Method:
In a large skillet, heat 1 tablespoon sesame oil over medium-high heat. Toss in cabbage, chicken, green onions, peas, carrots, rice, oyster sauce and 2 tablespoons ketchup. Fry until the edges of the rice begin to turn light golden.
Generously spray two small soup bowls with nonstick spray. Evenly divide rice between bowls, pressing the rice down in each bowl to compact. (The back of a wooden cooking spoon works well for this.)
In a large bowl, whisk together eggs, 1/2 tablespoon sesame oil, half-and-half and salt.

Heat large skillet over low heat. Spray generously with nonstick spray. Pour half of the egg mixture into the skillet and gently swirl around until the bottom of the skillet is covered with the egg mixture. Allow to cook on low until the eggs are set. Gently slide egg onto a large square of parchment paper. Repeat with remaining egg mixture, so that you have two omelets.
Place plates upside down on top of each soup bowl, and carefully flip to unmold the rice in onto serving plates.
Gently flip the parchment papers to cover each rice mound with a sheet of cooked egg.

Use a butter knife to gently tuck the edges of the omelet beneath the mound of rice.
Optional step: for an extra-precise look, spray the soup bowls a second time with nonstick spray and gently place over each mound of egg. Flip both egg and rice upside down into the bowl. Fold the edges of the omelet around the rice, then unmold again onto serving plates.
Drizzle each mound with ketchup and top with scallions before serving.
RELATED NEWS
March 19th, 2019
March 19th, 2019
February 24th, 2019