Deconstructed Egg Roll Noodle Bowls
Friday - June 15, 2018 11:06 am ,
Category : RECIPES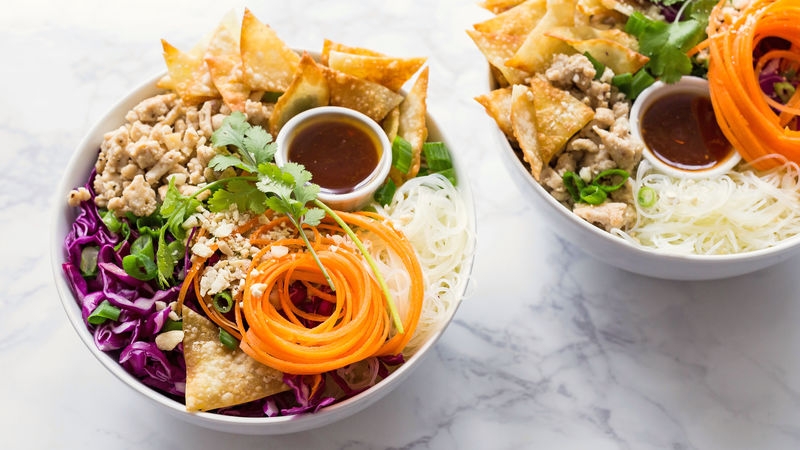 ---
Ingredient:

1 package (6.75 oz) Maifun Rice Stick Noodles
4 tbsp coconut oil, divided
1/4 lb ground turkey
1 tbsp soy sauce
2 cloves garlic, finely chopped (or 2 teaspoons garlic puree)
1/2-inch piece fresh ginger root, grated (or 1 teaspoon ginger puree)
2 egg roll or wonton wrappers, cut into small triangles or strips
1 carrot, julienned
1/4 purple cabbage
2 tbsp rice vinegar
1 tsp sesame oil (or liquid coconut oil)
4 tbsp prepared sweet and sour sauce
2 tbsp chopped cilantro
3 tbsp diced green onions
2 tbsp crushed peanuts or cashews (optional)

Method:
Cook rice noodles using the instructions for hot water preparation as directed on package. (You can also boil to speed up the process slightly.) Drain. Drizzle noodles with 1 tablespoon melted coconut oil, toss to coat and set aside.
Mix together turkey, soy sauce, garlic and ginger. Brown in a skillet until cooked through, then set aside.

Melt 3 tablespoons of coconut oil in skillet and fry egg roll wrapper strips just until golden. Set strips aside on a paper towel-lined plate to drain.
Divide noodles between four bowls and arrange with cabbage, turkey and carrots.
Whisk together vinegar, sesame oil and sweet and sour sauce to make dressing and drizzle over bowls. Garnish with cilantro, green onions and nuts (if desired).