Roasted Cauliflower Steaks over Black Rice
Thursday - September 21, 2017 11:18 am ,
Category : RECIPES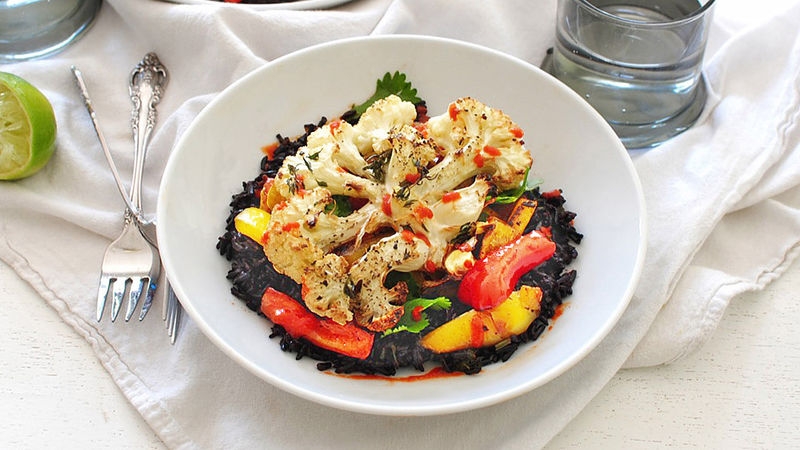 ---
Ingredient:

1 cup uncooked black rice
1 (15 ounce) can coconut milk
1/2 cup fresh cilantro, chopped, plus more for garnish
1 lime, juiced and divided
1 head cauliflower
4 tsp olive oil
1 tsp fresh thyme leaves
1 red bell pepper, cut into strips
1 yellow bell pepper, cut into strips
Sriracha sauce, for drizzling
Salt and pepper

Method:
Place the rice and coconut milk in a rice cooker. (Alternately, cook over the stove.) Cook until done. Once cooked, add the cilantro and the juice from half the lime. Toss together.
In the meantime, preheat oven to 400ºF.

Slice the cauliflower into 1/2-inch thick slices as best you can. I was able to get two steaks, and the rest crumbled into florets. You can roast the florets just the same as the steaks.

Brush both sides of the cauliflower steaks with the oil, and place them on a baking sheet. Sprinkle with the thyme leaves and a pinch of salt and pepper. Roast for about 30 minutes, or until tender and golden brown.

While the cauliflower roasts, heat another 2 teaspoons of oil in a sauté pan. Add the bell pepper strips and sear until slightly tender and have some good color, about 5 minutes.

To plate, evenly divide the rice among four plates and top with pepper strips, a few cilantro leaves, and the roasted cauliflower steaks. Lightly dot or drizzle with sriracha sauce.

Serve immediately with extra lime wedges.
RELATED NEWS
July 20th, 2018
July 20th, 2018
July 20th, 2018