Law to be Enacted in Madhya Pradesh for Continuous Education of Girls
Friday - October 13, 2017 1:33 am ,
Category : BHOPAL
---
Arrangements will be made for Regular Girls' Health Checkup
CM Chouhan made Announcement in Ladli Shiksha Parva

Bhopal: Chief Minister Shivraj Singh Chouhan said that a law will be enacted to make arrangement for continuous education of girls in the state. Daughters are blessings and gifts from the Almighty on this earth. Chouhan was addressing the Scholarship Distribution Programme of Ladli Shiksha Parva at CM House here today. Minister for Woman and Child Development Smt. Archana Chitnis was present in the programme. Scholarships were distributed to 65 thousand Ladli Laxmis in the entire state today.

CM Chouhan mentioned that arrangements will be made in the state for regular health checkup of the girls. Sky is not the limit for them if they desire so. Girls should develop talents to become famous in the entire world. There are 26 lakh 30 thousand Ladli Laxmis in the state today. After attaining age of 21 years, their families will get Rs. 31 thousand crore. Scholarship arrangement has been made for the girls under the Ladli Laxmi Yojana. Laptops are being given to the girls on their securing 85 percent marks in 12th examination. Similarly smart phones are provided to them on getting admissions in colleges. Moreover, college fee will be borne by the government after getting admissions in colleges under the Medhavi Vidhyarthi Yojana, provided they secure 75 percent and above marks in 12th examination.
Chouhan asserted that girls possess unlimited talents, if they want, they can achieve heights. Girls must always give respect to their parents and teachers. They are strength of Madhya Pradesh. Thirty three percent reservations in police department's recruitment and 50 percent reservation in teachers' recruitment have been made for the girls. Similarly, 50 percent reservation has been made in local bodies for the girls. Chouhan further mentioned that exemption in height will be given to the girls in the recruitment of police department. Arrangements will be made for regular health checkup of the girls. Free text books, uniforms and cycle schemes are being implemented for the girls. Gaon ki Beti and Pratibha Kiran Yojana are being implemented for the talented girls. CM Chouhan devoutly remembered late Smt. Vijaya Raje Scindia on the occasion.

Minister for Women and Child Development Smt. Chitnis said that over 65 thousand Ladli Laxmis have taken admissions in class 6th today. Scholarship of Rs. 2 thousand is being distributed to each girl today. Scholarship of Rs. 4 thousand in class 9th and scholarship of Rs. 6 thousand will be given to them on getting admission in class 11th. Ladli Laxmi Yojana has completed 11 years successfully.

Those states and the country make progress which give respect to the girls. Development has taken place in Madhya Pradesh keeping welfare of the girls at center stage. The girls have capacity to bring laurel to the state, provided they are given opportunities. Today, birth of a girl child is celebrated in the state.

Chief Minister Chouhan distributed certificates of scholarship as a symbol to the girls who have taken admissions in class 6th. Welcome speech was given by Principal Secretary Women and Child Development J.N. Kansotia. Chairman State Child Protection Commission Raghvendra Sharma, President Jila Panchayat Manmohan Nagar, Wife of Chief Minister Smt. Sadhna Singh and girl beneficiaries beside their parents in large number were present in the programme. Vote of thanks was proposed by the Commissioner Women Empowerment Smt. Jaishree Kiyawat.-Windowtonews
RELATED NEWS
September 26th, 2018
September 25th, 2018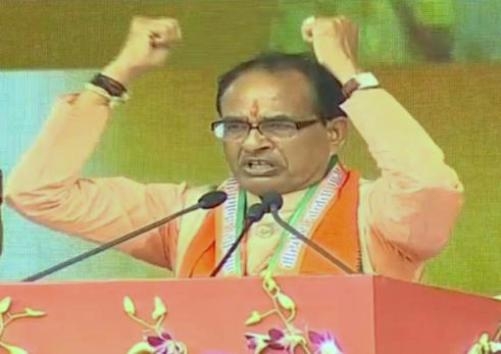 September 25th, 2018