Kiwifruit Sorbet
Friday - October 13, 2017 11:12 am ,
Category : RECIPES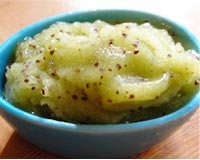 ---
Ingredient:

3/4 cup Kiwifruit Puree
1/2 cup Sugar
5 tsp Lemon Juice
1 cup Water
1/4 tsp Lemon Peel (grated)

Method:
Mix sugar and water in a vessel.
Simmer for 2 minutes and stir until sugar gets dissolved.
Remove from the heat and let it be cool.

Combine this with the kiwifruit puree, lemon peel, and lemon juice.
Blend until a smooth texture is obtained.
Refrigerate for an hour.

Kiwi Fruit Sorbet is ready.