Classic cheese soufflé
Thursday - May 16, 2019 11:44 pm ,
Category : RECIPES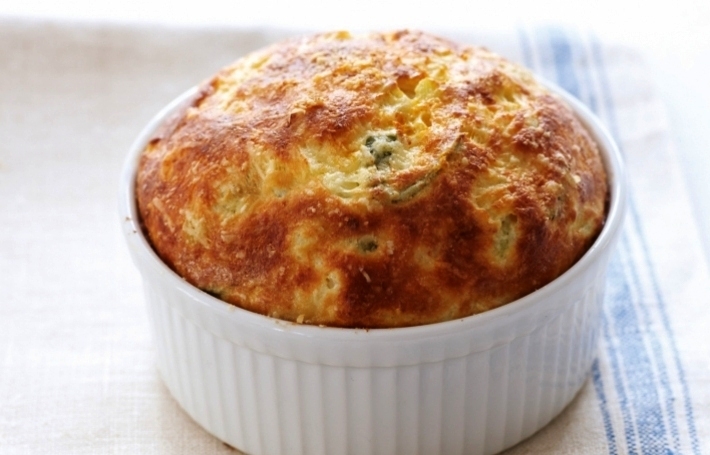 ---
Ingredient:

300 ml (1/2 pint) milk
1 bay leaf
A few parsley stalks
½ onion, peeled
Pinch of cayenne pepper
Salt and black pepper
45 g (11 ½ oz) butter, plus extra for greasing
45 g (11 ½ oz) plain flour
3 eggs, separated
1 tbsp Dijon mustard
125 g (4 oz) mature Cheddar cheese, grated
1.25 litre (2 pint) soufflé dish

Method:

Bring the milk to a boil in a saucepan with the bay leaf, parsley stalks, and onion half. Remove from the heat, cover, and leave to infuse for about 20 minutes. Strain, and then add the cayenne and season with salt and pepper.

Melt the butter in a large pan; add the flour, and cook, stirring, for 1 minute. Remove from the heat, slowly blend in the milk, then bring to a boil. Simmer for 2-3 minutes, stirring, until thickened, then remove from the heat. Leave to cool for about 10 minutes.

Beat the egg yolks in a bowl. Stir them into the cooled white sauce, then stir in the mustard and all but 15 g (1/2 oz) of the Cheddar cheese.

Whisk the egg whites until they form firm but not dry peaks. Fold 1-2 tbsp egg whites into the cheese mixture until evenly combined, then fold in the remaining egg whites.

Lightly butter the soufflé dish. Pour in the soufflé mixture, and sprinkle with the remaining cheese

Bake on a preheated baking sheet in the top half of a preheated oven at 180℃ (160℃ fan, Gas 4) for about 25 minutes, or until just set in the middle. Serve at once.