70th Republic Day celebrated at People's Campus
Monday - January 28, 2019 10:50 am ,
Category : BHOPAL
---
(WTN) Republic Day was celebrated with gaiety and fervor by the students at Peoples Campus Bhanpur Bhopal. Dr. Rajesh Kapoor Vice Chancellor Peoples University unfurled the National Flag and took salute of the parade. Megha Vijaywargia Trustee and Director People's Group, IH Siddique Project Director, Col Khurana Director Planning, Dr. VK Pandya Director Academics, Head of the Institutions/ Departments, Employees, Students, Parents, Friends and Family members were present on the occasion.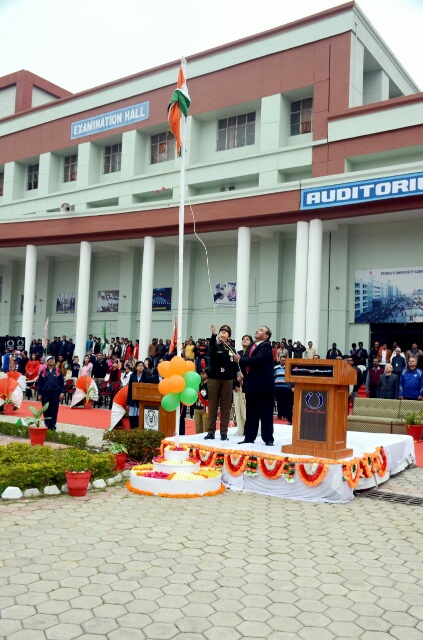 Dr. Rajesh Kapoor Vice Chancellor People's University in his address made special mention of People's University accomplishments. He congratulated all for their hard-work and dedication. Dr. Kapur informed that Peoples University is now a NAAC accredited university. Madhya Pradesh Private University Regulatory Commission has also recognized People's University as the 'Best University' of Madhya Pradesh. The School of Research and Technology, a constituent unit of the People's University, has been recognized by The Knowledge Review Magazine in the annual list of The Ten Best Information Technology Institutes in India. He also congratulated the faculty members and students who were selected to represent People's University at various International, National and State conferences. Dr. Anil Kapoor Professor People's College of Medical Sciences and Research Center was honored as the Best Teacher by Madhya Pradesh Private University Regulatory Commission; he also has the distinction of being honored as a FAIMER Fellow.

Dr. Ruchi Kalra Professor People's Medical College and Dr. Indu Khare secured state level 1st Prize; Dr. Tripthi Soni and Dr. Gurpreet Kaur secured 3rd Prize for innovation by Madhya Pradesh Obs Gyanae Society. Shankul Dwivedi student People's Medical College, has been selected for International Japan Youth Exchange Program June 2019, Dwivedi was selected for the Fully Funded Workshop on Developing Indian Physician Scientists (CSIR) in New Delhi by the Department of Biotechnology, Government of India. People's Medical College student Abhinav Yadav was also felicitated by Madhya Pradesh Private University Regulatory Commission as the Ideal Student. Prof. Dr. Vrinda Saxena from People's Dental Academy was felicitated with the Best Paper Award by the National Conference of Indian Association of Public Health Dentistry. People's Dental Academy Dr. Vrinda Saxena, Dr. Anish Gupta, Dr. Ankur Jain, Dr. MuktiShri Mahindra, Dr. Pooja Khare and Dr. Hina Handa have participated in several conferences and conventions as Chairpersons. Prof. Sangeeta Jain Peoples Dental Academy has been awarded Fellowship by the World Research Association. Students of the People's Dental Academy, Dr. Monali Bajaj, Dr. Vaibhav Shrivastav. Dr. Pragya Saran, Dr. Sonali Tripathi, Dr. Swati Agrawal were given best paper award in the 72nd Indian Dental Conference held in Indore. In National IOOR Convention held in October 2018 Prachi Dwivedi and Sachin Jha of People's Dental Academy bagged the first and second position in the paper presentation; Sricha Shivangi got third place respectively. In the poster presentation Prachi Dwivedi and Shivani Thakur got first place Sangeeta Sahu and Krrishashini second place. Dr. Swati Tripathi received the second prize in the year 2018, Dr. Shraddha Chaudhary and Dr. Jaina Dubey of the Orthodontics Department got the first prize at IDA Seventh Mid-Year Convention in Indore.

Students of the People's College of Dental Sciences Dr. Kanchan Kanher, Department of Oral Maxillofacial Surgery, Dr. Asha Dhingra Department of Public Health, Dr. Shipra Shukla, Dr. Swapnil Tamarkar and Dr. Apurva Awasthi have also been awarded for the papers presented at the National Dental Conferences . Prof Dr. Neeraj Upmanyu and Tripti Shukla Associate Professor School of Pharmacy have filed a patent and published a book on pharmaceutical Engineering. Dr. Neeraj Upmanyu was honored as a member of the Syllabus Committee by the President Pharmacy Council of India. Three students of People's University, B Tech Computer Science Sakshi Mishra, Satyam Jay and Jasmine Verma won the mega hecathon challenge hosted by IBM India; were rewarded with an opportunity of six months internship in IT Company IBM. Student of the School of Research and Technology Vidyanand Rai and Reveka Zapa student of People's College of Nursing are representing People's University in Republic Day Prime Minister's rally 2019. NCC Officer of the People's University Captain RP Chowdhury is representing NCC Madhya Pradesh Chhattisgarh Directorate in NCC Delhi. People's College of Paramedical Sciences National Service Scheme is fully implemented and by organizing training camps and by public participation they are doing commendable work of social concern. People's Institute of Management student Diyanshu Sharma secured first position in the National Skating Competition. He will represent India in the International Skating Contest in South Korea on February 9, 2015.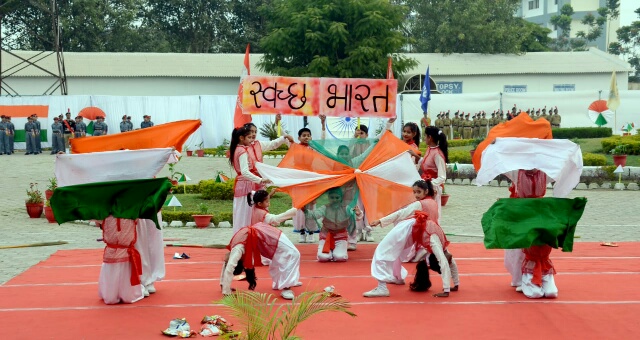 Vice Chancellor Dr. Rajesh Kapur informed that world class medical care is being provided to patients in the People's Hospital. Free counseling and medicines are distributed by the People's Hospital at various camps organized in rural and urban areas. The super-specialty care hospital which started recently has facilities as available in big cities like Delhi being provided by the subject experts at very economical rates. In Super Specialty Care Hospital, Neurology, Urology, Nephrology, Gastrology, Endocrinology, Dermatology, Pediatrics, Au Graph Ayurveda and Panchkarma are available. Neuro Surgery, Plastic Surgery, Pediatric Surgery, Gastro Surgery, Laparoscopic Surgery, etc. are also done. The highest quality surgical hologram laser machine available here is best in Central India. Emergency and intensive care services are provided round the clock twenty four hours seven days. The People's University is moving forward to new dimensions. The University has solicit for the National Institutional Ranking Framework (NIRF), sixteen projects have been deposited in the ICMR, People's Institute of Management and School of Research and Technology are about to introduce new elective course in logistics and supply chain management.

Students of People's Public School Samriddhi Saxena, Tanisha Mihir Verma, Drishti Tyagi and Vaishnavi are bringing laurels for the school at the national and state level. Adi Vaishnavi of Class X is the first student of People's Public School in Republic Day Camp at Delhi. Samriddhi Saxena represented the People's Public School in the 64th National Games 2018-2019 in Andhra Pradesh. Tanisha became the brand ambassador of International Brand Vistoro. Drishti Tyagi achieved Gold Medal in Taekwondo School State Championship Vidisha. She has also been selected for the Senior National School Games Karate to be held in April in Punjab.

Republic day program was successfully coordinated by People's University NCC Officer Capt Summi Choudhary. Cultural program was also organized by the students to mark the occasion and sweets were distributed to all.
RELATED NEWS
December 3rd, 2022
December 2nd, 2022
November 29th, 2022