House construction workshop of Moran tribes Assam held at IGRMS
Tuesday - May 14, 2019 10:41 am ,
Category : BHOPAL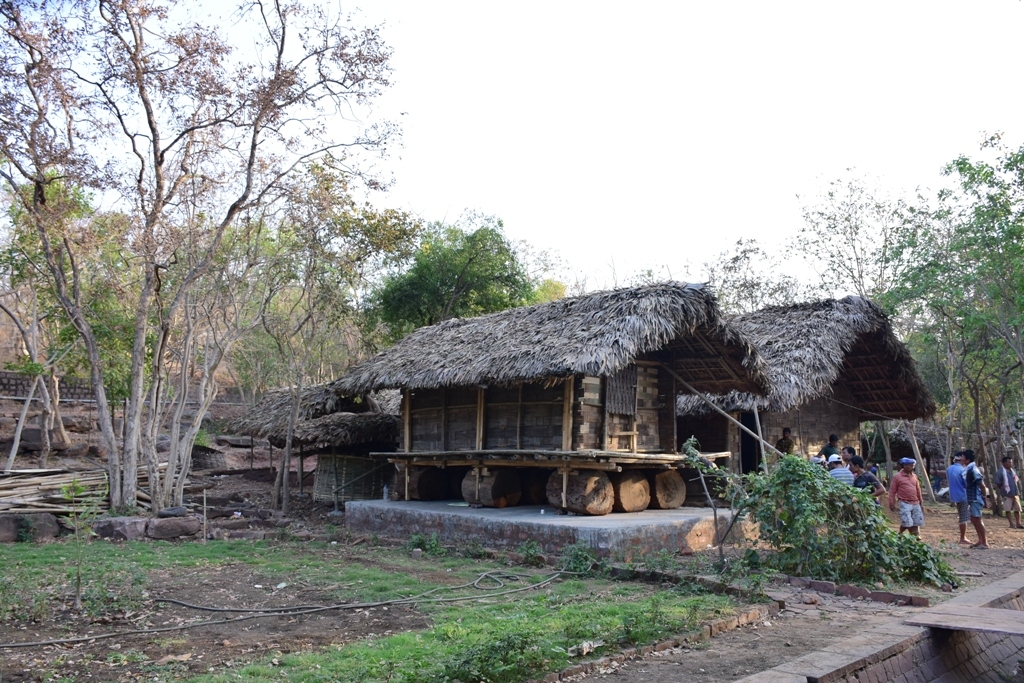 ---
Bhopal, May 13 (WTN): Indira Gandhi Rashtriya Manav Sangrahalaya organised the housing construction workshop to introduce the local architecture of the various stages of housing construction made by the local tribes and get the audience awared of it. In this sequence, Today, The traditional artists of Moran tribe from Assam performed this Habitat with the aim to introduce the visitors with the intellectual and creative skills of simple societies and the technological splendor of India's contemporary world at Veethi Sankul premises of Indira Gandhi Rashtriya Manav Sangrahalaya, Bhopal.




On this occasion N. Sakamacha Singh, Museum Associate, IGRMS brief about the housing type of Moran tribe of Assam and said that Moran House constructed with bamboo as wall structures and traditional design and structure. The Moran house has three rooms arrayed with bamboo wall partitions. The front hall called Sora ghar is regarded as the most important part of the house. This common room has a fire place called Jui Hali, and surrounding of which is a meeting place. The space adjoining to the main Khuta (pillar), is the place for the household head. The Huwa Ghar (Bed rooms) and sometimes extended with partitions depending upon the number married Sons and family members.The last room of the extension called Randhoni Ghar or Pak Ghor (Kitchen).

The Bhoral Ghar (granary), that lies in the courtyard is apparently more interesting. The Bhoral structure is unique, and raised upon nine pieces of wooden log that are arrayed in rows. These logs are called Lotikai that sometimes are very huge ranging from 3 to 5 ft in diameter. Use of Lotikais in the Bhoral structure, is meant, not only to provide firm support to the entire structure, but also to present the underlying idea of their socio-cultural and economic relation with their elephants. It is said that in the olden days, rich people among the Moran used to construct as many as Bhoral ghar, some of which, they construct in the name of their elephants. They do not consume grains from those granaries which are dedicated for their elephants. They rather spend it for the care of their elephants. Bhoral Ghar has four side-walls covered with tightly weaved bamboo matted structure.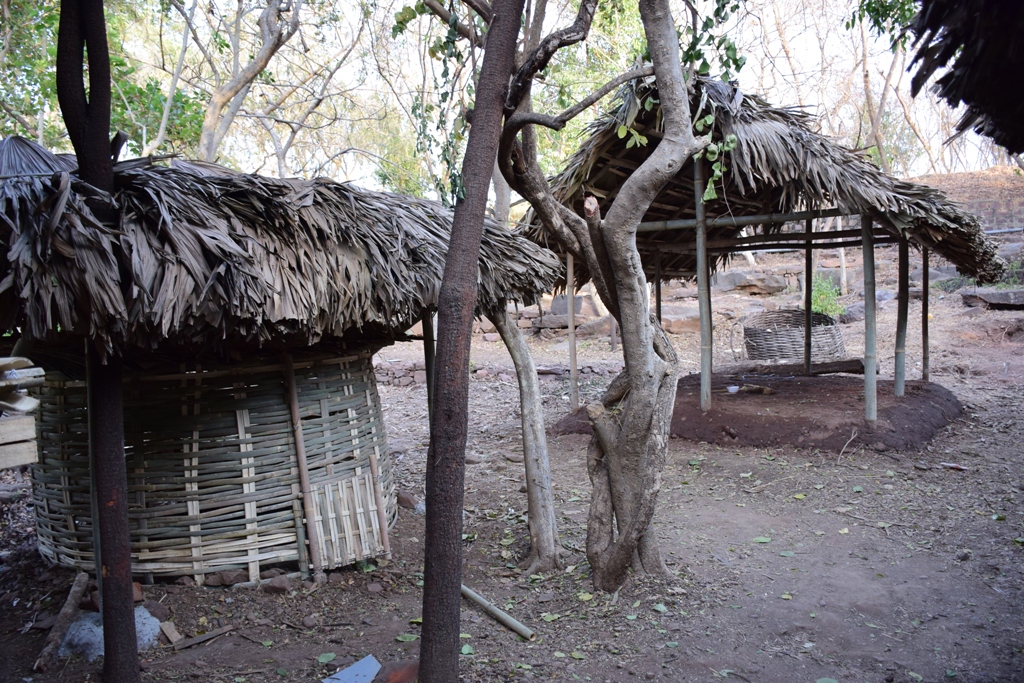 This raised structure is constructed in a manner that it looks proportionate with the size of logs they use. Roof structure is two-sided and thatched with locally available leaves called Tokou pat/ or Jengu Pat. It is generally believed that the grains should be stuffed inside the Bhoral ghar in such a way that it virtually represents a fully eaten and pot-bellied elephant sitting in the yard. The side walls of the granary are used for keeping and hanging agricultural implements, fishing tools and sometimes large size ropes for elephants. There are three other essential structures generally used in every Moran family. These are: 1. Guhali Ghor (Cow shed), 2. Tantorhali (Weaving shed) & 3. Hahor Ghoral (Duck enclosure)

The position of the Guhali Ghor is generally in south direction to the Sora Ghor. It is a simple shed without any wall structures. Guhali ghor is used as cow shed for keeping domesticated Cows and Bulls. Tantorhali is a separate shed prepared in a convenient place keeping looms and other weaving materials. Female members of the family weave clothes in this shed. The position of the Hahor Ghoral is generally in west direction to the Sora Ghor. Hahor Goral is circular bamboo enclosure raised and shortened to the top. It is used for keeping Duck, Goose etc. Keeping elephant in a Moran family was not only the matter of pride and prestige, but also a symbol of identity among us".

It seems that the traditional design and structure of Moran house is not only determined by the environmental conditions alone but also have a great influence of culturally defined elements, that gives a clear picture of their age-old co-existence and harmonious relation with the elephants. An attempt has been made to collect and transport the material cultural items of the tribe together with traditional housing materials from the villages. Museum has been successful in adding traditional Moran house in its open air complex. a team of Moran people from the villages of the Tinsukia district of Assam were invited by the museum. They had constructed their house and exhibited many items of their cultural belongings. – Window To News
RELATED NEWS
June 30th, 2020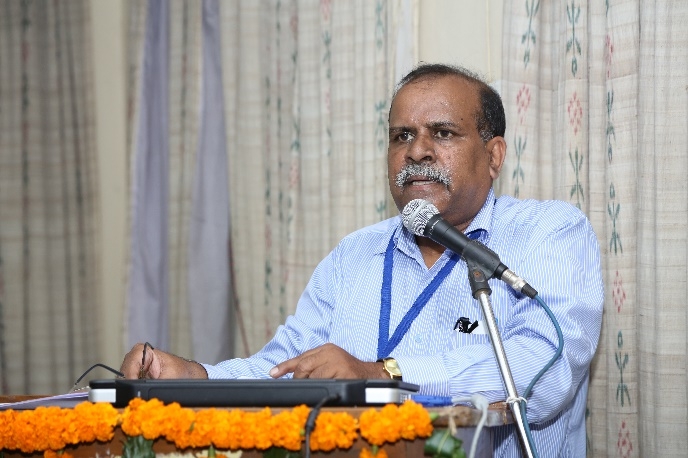 June 17th, 2020
June 9th, 2020