People's University campaign against drug addiction
Wednesday - August 7, 2019 4:50 pm ,
Category : BHOPAL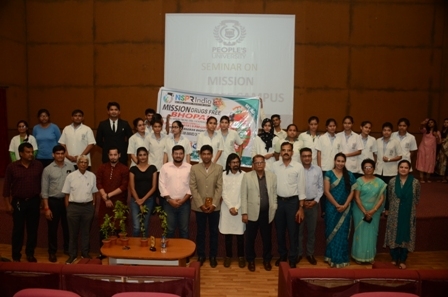 ---
Seminar organized under the 'Mission Drugs Free Campus' at People's University
AUG 07 (WTN) -
Intoxication leaves a human being only and only by ruining it. There are many examples before us when a person has to lose his life due to drugs. Let you know that drugs lead to destruction. It is the duty of all of us to raise our voice against drug addiction. In this context, a seminar under the 'Mission Drug Free Campus' was organized at the People's University in Bhopal, in which about drug abuse, its vital problems in our society and its side effects were discussed in detail.
The seminar was particularly attended by Bhopal ASP Dinesh Kaushal, Nishatpura CSP Lokesh Kumar Sinha, NSPR INDIA national president Aamir Alvi, NSPR INDIA national trainer and counselor Zameer Alim, Dr Nilofar and Adil Khan.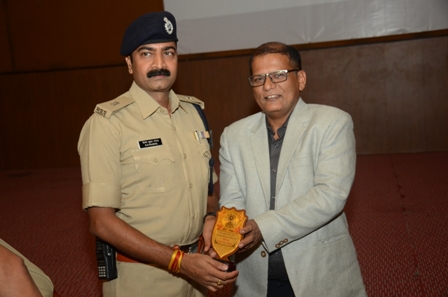 Dr. SK Sadavarte, Dean of the People's College of Medical Science, Dr. Neerja Mallick, Registrar of the University, Student Welfare Dean of the University, Prof. Akhilesh Mittal, Mamta Mathur, Neeraj Apamanyu and Asad Baig welcomed the guests at the seminar.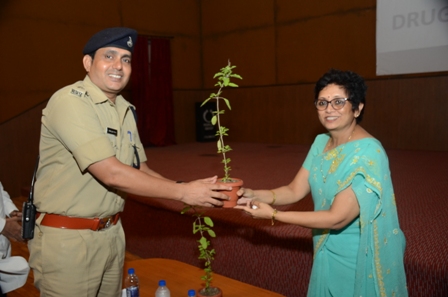 Addressing the seminar, Dr. SK Sadavarte, Dean of the People's College of Medical Science, said that if we want to advance the country and society, then we all have to stay away from addiction. Dr. Sadavarte said that the country would progress only if the younger generation would be healthy. All of us should try to protect ourselves and others from it.
While giving his views in the seminar, Bhopal ASP Dinesh Kaushal said, "Drug addiction is ruining the society and the young generation. Drugs increase crime, which women have to suffer. " ASP Kaushal said, "All of us have to take steps against drug addiction. If anyone gets any information about drug dealers, they should inform the police about it. Together we can win the war against drugs."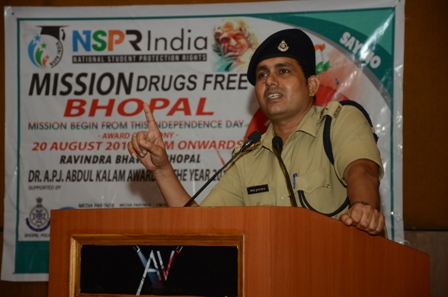 Expressing his views at the seminar, Nishatpura CSP Lokesh Kumar Sinha called upon the younger generation to stay away from drug addiction and try not to make anyone else feel addicted. CSP Sinha made the younger generation realize their responsibility and said that it is their duty to serve the country and society while away from drugs.
National President of NSPR INDIA Aamir Alvi expressed his views at the seminar and said, "His organization's campaign against drugs is going on all over the country. Organization's whole effort is to keep the younger generation of the country away from drugs. During this, Alvi said that intoxication makes the body hollow like a termite, in such a situation it is the responsibility of all of us to stay away from intoxication and not let anyone take drugs.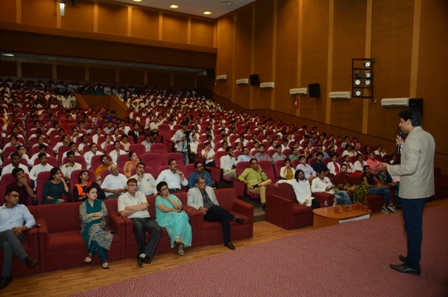 NSPR INDIA's National Trainer and Counselor Zameer Alim elaborated in his presentation what are the symptoms of intoxication and what kind of intoxication are. Alim, while advising the people present at the seminar, said."Complete care should be taken that no one should put you intoxicated." On this occasion, Counselor Alim said that everyone should take part in the campaign against drugs.
The seminar was efficiently conducted by Ayushi Saxena and Amy Thomas. At the end of the seminar, Professor Akhilesh Mittal expressed his gratitude to all the guests. In the seminar, besides the teaching staff of the People's University, officers, staff and large numbers of students were present.
RELATED NEWS
September 24th, 2020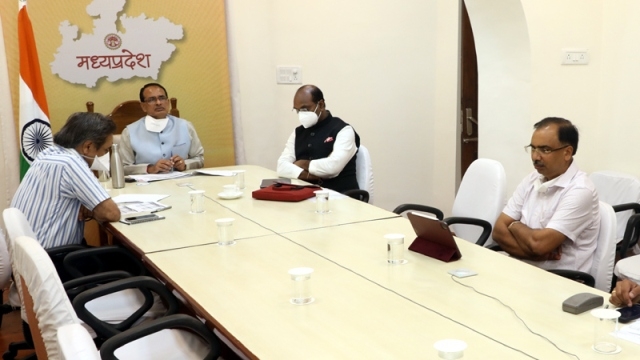 September 20th, 2020
September 17th, 2020