NAAC Workshop convened at People's University on reforms in higher education
Tuesday - September 24, 2019 4:28 pm ,
Category : WTN SPECIAL
---
Education institutions must now provide information about educational activities online
SEP 25 (WTN) -
The progress of any country depends to a large extent on the education system of that country. Especially the quality of higher education of any country is the cornerstone of social and economic progress of that country. The NAAC (National Assessment and Accreditation Council) has been trying for many years for educational and academic improvement in the Indian universities, so that the quality of higher education in India can be qualitatively improved.
In the same context, as per the deliberations held with the Department of Higher Education, Government of MP, Barkatullah University organized NAAC workshop criteria II in association with People's University at People's University.
In the workshop, Vice Chancellor of Barkatullah University, Prof. Dr. R.J. Rao; Vice Chancellor of People's University, Dr. Rajesh Kapur; Professor of Jiwaji University, Prof. D.D. Aggarwal and NAAC Coordinator of Bakratullah University, Dr. K.B. Panda were present along with participants of 56 universities of MP.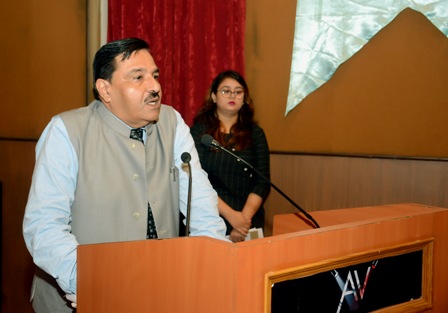 Addressing the workshop, Dr. Rajesh Kapur, Vice Chancellor of People's University said that the objective of NAAC is to make India's educational institutions of international standard. Dr. Kapur further said in his address that the Government of Madhya Pradesh is striving in the direction that all the universities of the state should be NAAC accredited, which can improve the level of higher education in the state of MP.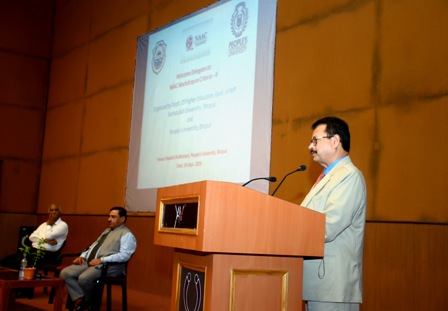 Addressing the workshop organized for the second phase of NAAC Criteria, Vice-Chancellor of Bakratullah University, Dr. R.J. Rao said that all universities should work to improve the quality of education. Dr. Rao said that providing educational opportunities to students is a very big responsibility of educational institutions and for this work, the responsibility of the faculty of education institutions increases greatly, because faculty makes students a good person who will go ahead can do something better for society and country.
Giving information to education institutes, Dr. Rao said that now all educational institutions will have to upload online information about all kinds of educational activities happening in their institutions, which will make it easier for NAAC to do grading of these institutions, as well by doing this; a system can be created for acquiring information about educational activities. Dr. Rao directed the faculty that under the new policy of NAAC, they will now have to keep a proper record of their educational work and upload it on the NAAC website so that other people can also get their information.
At the same time, Professor D.D. Agrawal, while explaining about the new methodology of NAAC to the delegates from universities, said that now it would be mandatory for all the educational institutions to be accredited by NAAC by 2030. Professor Agrawal said that under the new education policy, emphasis would be laid on quality and quantitative of the education, so that students could get education in the right way. Professor Agarwal said in his address, "Educational institutions and faculty will now have to upload complete information about their educational work on the website, so that by analyzing that data, NAAC can formulate new policies for higher education in future."
The workshop convened in the auditorium of People's University also had presence of Dr. V.K. Pandaya, Director (Academic), People's University; Dr. Neerja Mallick , Registrar People's University ; Prof K N Tripathi , Barkatullah Universirty, Bhopal ; Dr Nishcal Yadav and Dr Swati Dubey of Vikram University, Ujjain amoungst others
Prof. . Akhilesh Mittal , Coordinator of the Workshop and Dean Students' Welfare People's University delivered the vote of thanks.
The workshop was compeered by Faria Ihtesham and Sahiba Khan of People's Institute of Management, People's University.
-Window To News
RELATED NEWS
July 13th, 2020
July 13th, 2020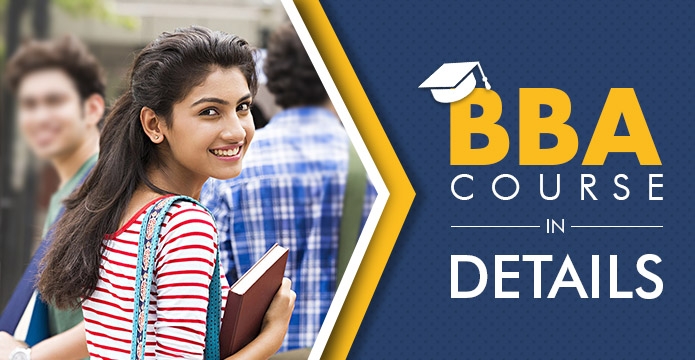 July 13th, 2020