Trickery of China on the Kashmir
Thursday - October 24, 2019 2:29 pm ,
Category : WORLD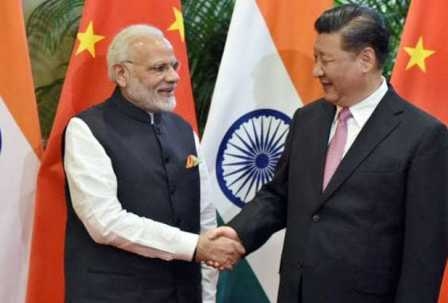 ---
China's double move on Kashmir!

OCT 24 (WTN) - China, a country with an expansionist mindset, has always been an incredible neighbor to India. From the war in 1962 to the Doklam dispute, China has always betrayed India. Actually, China wants to become the only superpower of Asia but the biggest obstacle to this intention of China is India. Although India is far behind China on the strategic and economic front, still China considers India a hindrance in becoming the superpower of Asia.

China's diplomacy has always been that it continues to harass India under the pretext of Pakistan. Let you know that Pakistan keeps taking advantage of this diplomacy and receives financial and military support from China. But China knows that Kashmir is a very sensitive issue between both India and Pakistan. The matter of Kashmir is so important for both countries that a fight over it can lead to a nuclear war between the two countries.

In the case of the Kashmir dispute between India and Pakistan for years, China has always been in support of Pakistan. Pakistan's Prime Minister Imran Khan had visited China recently before Chinese President Xi Jinping visited India and during this time China had supported Pakistan by issuing a statement on the Kashmir issue. For your information, let you know that Beijing also claims its seizure on some parts of Kashmir.

After the removal of Article 370 from the state of Jammu and Kashmir by the Government of India, Pakistan had pleaded with the whole world for support on this issue but no country except China, Turkey, and Malaysia supported Pakistan on this issue. By the way, India has always been saying that Kashmir is an internal matter of India and any other country including China should stay away from it.

But Kashmir issue is a very complicated matter before China. Actually China keeps supporting Pakistan on Kashmir issue to surrounding India diplomatically. As a result, during Imran Khan's visit to China, Chinese President Jinping had said, "China supports the protection of the legitimate rights and interests of Pakistan and hopes that the concerned parties will be able to settle the dispute peacefully."

Whereas in the China-Pakistan joint statement; it was said that the Kashmir dispute should be resolved peacefully and properly under the UN Charter, UN Security Council Resolutions and Bilateral Agreements. Annoyed by such remarks of China in India's internal matter, India immediately objected and said, "New Delhi's side is clear that Jammu and Kashmir is an integral part of India and China knows our position well. Other countries should not comment on India's internal affairs."

In fact, China has been supporting Pakistan on the Kashmir issue in a thoughtful strategy. But if you are thinking that China is showing interest in the Kashmir issue only because of Pakistan, then your thinking is wrong. Indeed, China had occupied a large part of Kashmir, Aksai Chin, which is located just east of Ladakh. After the removal of Article 370 and becoming the Union Territory of Ladakh, let you know that Ladakh will now be directly ruled by the Central Government. This is the reason why China is making so much rhetoric on the Kashmir issue.

For your information, let us know that currently China and Pakistan are traded on the Karakoram Highway, which connects China and Pakistan in the western Kashmir region. The road is being developed into a multi-lane highway under the China-Pakistan Economic Corridor (CPEC) at a cost of billions of dollars and this highway allows trade throughout the year.

It is clear that China's economic interests are connected to this area of Kashmir. As you know, China and Pakistan have diplomatic, military and economic ties. China has also invested crores of dollars in CPEC. In such a situation, China keeps supporting Pakistan on the Kashmir issue due to its own economic interest.

Although China has a communist regime, now Chinese leaders formulate their diplomacy with capitalist ideology. Although Pakistan has always been a friend of China, China would not want to ignore a market with huge consumers like India. Looking at the huge market of India, China has been saying from time to time that India and China should continue to move forward in all areas, eliminating mutual differences. For your information, let us know that there is a bilateral trade of about $ 90 billion between India and China, which China would never want to lose.

Actually the mixed response coming from China on Kashmir is a part of its diplomacy. In a consumerist culture, international relations are linked to reality. China knows that it has a border dispute with India and also has disagreements between India on many other issues. But despite all this, trade between India and China is growing rapidly. Today, there is a dispute between India and China on many issues, but these disputes are not such that the whole world is disturbed.

It is clear that China is a clever country. As a strategy to harass and surround India, China has been in support of Pakistan on many issues so that India will have trouble with it. But at the same time, China does not even want to make the mistake of making India angry. China knows that it has more economic benefits from India than Pakistan.

For all these reasons, China is sure to support Pakistan on Kashmir issue but China also does not want to annoy India on Kashmir issue, because if it does, then it may have to lose its market from India. Therefore, China is trying to accompany both India and Pakistan on the Kashmir issue.

RELATED NEWS
July 15th, 2020
July 15th, 2020
July 15th, 2020