Imran Khan trying to suppress the voice of opposition with the help of Kashmir issue
Thursday - October 24, 2019 4:30 pm ,
Category : WORLD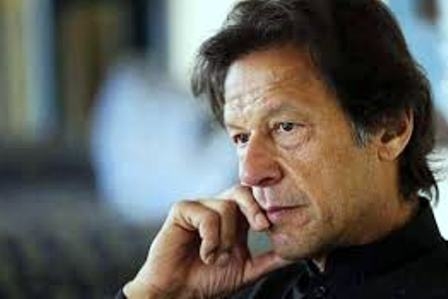 ---
Now Imran Khan surrounded in his own house!

OCT 24 (WTN) - Pakistan Prime Minister Imran Khan has been a cricketer by profession. Imran Khan, who won the Cricket World Cup for Pakistan under his captaincy in 1992, became a hero in Pakistan. After his retirement from cricket, Imran Khan tried his luck in Pakistan politics. After years of hard work, Imran Khan finally succeeded in becoming the Prime Minister of Pakistan.

But there is a huge difference between cricket and politics. Where Imran Khan used to create fear among batsmen with his fast bowling as a cricketer, today the same Imran Khan is finding himself badly surrounded after joining politics.

In fact, Pakistan's opposition parties consider Imran Khan as the 'selected' prime minister, not 'elected'. This is why because the Pakistan Army is said to have a big influence on making Imran Khan the Prime Minister of Pakistan. Actually, the Pakistan Army wanted to see a politician who works on its (Army) behest. Therefore, the Pakistan Army managed the election and 'made' Imran Khan the Prime Minister. And as you know that democracy in Pakistan is only to show the world, the rest taking decisions from foreign policy to internal policy in Pakistan is done by Army.

During his one-year tenure, Imran Khan has proved to be a puppet of the Pakistan Army and an extremely failed prime minister. On the one hand, where Pakistan's economic condition has worsened in the last year, Pakistan has faced defeat on every front from India on the Kashmir issue.

If we talk about the economy of Pakistan so inflation in Pakistan has reached at a historical level, while foreign debt on Pakistan has also reached a record level. While exports have remained negligible nowadays, the foreign exchange reserves have also reached a record low level.

Amid all these types of failures of Imran Khan, now opposition parties are starting to unite against him. Maulana Fazal-ur-Rehman, chief of Pakistan's largest religious party and Sunni fundamentalist party Jamiat Ulema-e-Islam (JUI-F), has opened a front against Imran Khan. According to the information, under the leadership of Maulana Fazal-ur-Rehman, there is a plan to carry out a freedom march against Imran Khan in different parts of Pakistan.

In fact, Maulana Fazal-ur-Rehman has demanded that Imran Khan's 'Selected Government' should resign and election should be held in Pakistan again. The protests by Maulana Fazal-ur-Rehman may increase the troubles of Imran Khan, as it is said that the protest and agitation going on under the leadership of Maulana Fazal-ur-Rehman against the Government of Imran Khan in Pakistan are being supported by Muslim League-Nawaz (PML-N) and Pakistan People's Party (PPP).

Taking a dig at Imran Khan becoming Prime Minister, Maulana Fazal-ur-Rehman says that the results of the election were folded in favor of Imran Khan last year. Maulana has accused the Imran Khan Government and said that Pakistan's economy is getting worse and inflation has broken all records. Modern countries maintain their sovereignty through a strong and stable economy, but the Imran Khan Government has put everything at stake.

Here, Pakistan People's Party (PPP) chairman Bilawal Bhutto Zardari is also attacking Imran Khan fiercely. Targeting Imran Khan, Bilawal Bhutto has said that Prime Minister Imran Khan is the biggest problem of Pakistan and his resignation will solve all the problems of the country.

Supporting the independence march of JUI-F, Bilawal Bhutto said that it is unfortunate that a number of restrictions have been imposed in Islamabad on the independence march. Accusing Imran Khan of anti-democracy, Bilawal Bhutto said that investigating agencies and the judiciary cannot be used to suppress their opponents.

Imran Khan defeated on the Kashmir issue by India, has been terrified by the protests of Maulana Fazal-ur-Rehman and the opposition parties. Addressing his party workers, Imran Khan attacked the opposition parties, saying, "Those who do not want to see Pakistan succeed on the economic front, they are conspiring against the country."

Imran Khan, who has proved to be a failed Prime Minister on almost every front, has now started singing the Kashmir ragas to suppress the opposition movement. Linking the 'Azadi March' to Kashmir, Imran Khan says, "Peaceful and political demonstrations are the constitutional right of all parties, but he will not let affect the fight on Kashmir issue due to the demonstrations of the opposition."

It is clear that Pakistan's economy has come to the verge of bankruptcy since Imran Khan has become the Prime Minister. The debt on Pakistan is increasing and for this reason, the general public of Pakistan has become increasingly difficult due to rising inflation.

Due to the conditions of the bailout package received from the IMF, there has been a huge increase in tax in Pakistan, which has upset the people of Pakistan due to inflation. Here, due to China's ambitious CPEC project, Pakistan's economic condition is getting worse.

Due to all these reasons, voice has been raised against Imran Khan inside Pakistan. But instead of improving the economic condition of the country, Imran Khan is busy making statements against India on the Kashmir issue. Pakistan's opposition parties are opening a front against Imran Khan on the basis of the ruined economy of the country, while Imran Khan is trying to suppress the voice raised against him by citing the Kashmir issue.
RELATED NEWS
July 15th, 2020
July 15th, 2020
July 15th, 2020