Learning from Twitter, the social media site Mastodon competes with Twitter!
Tuesday - November 12, 2019 4:18 pm ,
Category : BUSINESS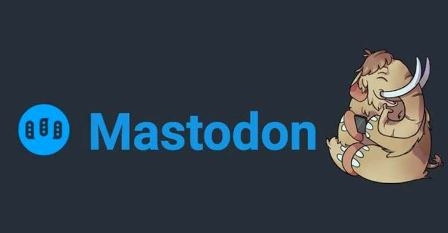 ---
​Know why social media site Mastodon becoming more popular than Twitter?

NOV 12 (WTN) - The number of social media users in India has increased qualitatively since the Internet revolution. Indian users are among the number of crores on social media sites like Facebook, Twitter, and Instagram, etc. But in this era of mobile in every hand, social media sites are facing a lot of competition from one other. As you know, there are many types of social media sites on the Internet platform for communication, due to which the competition for the activity of users among these sites continues.

In this context, a social media site named Mastodon is becoming increasingly popular, challenging the micro-blogging site Twitter. According to the information, among people who use social media, Mastodon is being liked more than Twitter these days. For your information, let us know that Mastodon was founded on 5 October 2016 by Eugen Rochko. Let you know that Eugen called Mastodon is the Federation.

Micro-blogging site Mastodon is also used as a social networking site like Twitter, wherein users can create their own profiles as well as post photos, send and share messages and videos. For information, let us know that Mastodon is a Germany based open source social networking site that works on open sources just like the microblogging site Reddit.

Actually, Mastodon is said to be a large creature that has become extinct from the Earth and according to the name of this site, this site gives more space to its users. While Twitter offers its users only a space of 280 characters to send a message, the slowly growing and becoming popular site Mastodon provides 500 characters of space to its users.

If you think that Mastodon is a new blogging site, then your thinking is wrong. This site has been established in the year 2016 itself, but since then this site has been going through a period of changes due to the continuous learning process. This site has undergone some changes due to learning and subsequent changes and only after that Mastodon is now claiming to be a secure social media site.

According to the experts, Mastodon is equipped with better equipment to protect itself and its users from a strict code of conduct. It is being claimed that many professionals are involved in the day-night care of the site. At the same time, there is a wide difference in the infrastructure of Twitter and Mastodon. For your information, let us know that Twitter is a centralized social networking site, while Mastodon is a communication-based site among many people.

Actually, Twitter is actually controlled by a company, in which all people are interconnected. The mastodon has its own policies and system. By the way, Mastodon has followed Twitter a lot. For your information, let us know that Mastodon founder Eugen had said in a post in July 2018 that he had actually used the Twitter model for Mastodon's development. Eugen later stated that he gradually realized that Twitter lacked the tools of harassment and handling, which led him to create a permanent solution to these problems at Mastodon.

Mastodon is being widely liked in the world as well as in India. Many Twitter users have accused Twitter of being inconsistent with its strict policies. Twitter users are slowly getting attracted to Mastodon because Mastodon is designed as a personalized service.

Anyone can join a Mastodon social networking site in general. At the same time, other social networking sites are controlled to share the interests of specific people. Actually, each person in Mastodon has its own individual server, which is run and controlled by the same. Also, the same person controls other members as well. This is why Mastodon social networking site is gradually becoming more popular than Twitter.
RELATED NEWS
August 10th, 2020
August 10th, 2020