Nepal being enmeshed in the 'trap' of China!
Wednesday - November 13, 2019 2:40 pm ,
Category : WTN SPECIAL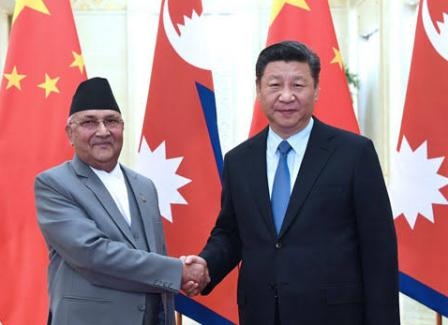 ---
China in an attempt to 'surround' India through Nepal

NOV 13 (WTN) – Country with an expansionist mindset China has always had border disputes with its neighboring countries. China has border disputes with all the countries that have borders with China. China's border disputes with countries such as India, Russia, Tajikistan, Bhutan, Mongolia, Vietnam and Kyrgyzstan continue. In fact, China, which is a one-party communist regime, always keeps an eye on the border of its neighboring countries and that is why there are border disputes with its neighbors.

As you know, China is currently the second-largest economy in the world with $ 11 trillion. In order to promote its economic expansionism, China is enmeshing the world's poorest countries in its debt and consuming its goods there. Asian countries like Pakistan, Sri Lanka, Maldives, and Bangladesh are recent examples of China's economic expansionism. China is working on diplomacy to encircle India economically and strategically by interfering in these countries.

Under this diplomacy, China has now invested millions of dollars in Nepal and has focused its resources. According to the information, China is investing money in many big projects, including rail and road in Nepal, so that traffic between China and Nepal can be accessible. But the reality is that China is gradually implicating Nepal in its debt trap and working on diplomacy to exploit its resources.

But the cleverness of China is not understood by the Communist Government of Nepal and for this reason; the Government of Nepal is gradually doing all that the Chinese Government is asking them to do. Amidst all this, protests have started against China in Nepal. Actually, the Nepalis allege that China has taken possession of Nepal's land. In Nepal, there were strong demonstrations against China on Monday and the effigy of Chinese President Xi Jinping was also burnt in many places.

Nepalese protesters descended on the streets of Saptari, Bardia, and Kapilvastu, shouting slogans against China. The protesters held banners like 'Go Back China' and 'Return Nepali Land'. This anger of Nepalese people has flared up against China because of a recent report released by the Survey Department of Nepal said that China has encroached on about 36 hectares of land in Nepal.

According to the information, the survey said that Nepal had lost several hectares of land in the four districts of Sankhuwasabha, Rasuwa, Sindhupalchowk, and Humla along the Nepal-China border, in China's ambitious road projects. According to available information, China has taken possession of about 6 hectares of land near the Bhagdare River in Humla district and four hectares of land in Karnali district and now it is in the Furang area of ​​Tibet.

Similarly, about 6 hectares of land has also come to Kureng in southern Tibet, near the Sanzen River and Jambu Khola. According to the report of the survey department, China has also taken possession of 10 hectares of land in Bhote Koshi and Khare Khola areas and the said area has now come to Nyalam in Tibet. That is it is clear from the survey report that China has been cunningly occupying the land of Nepal.

Indeed, China is now trying to fulfill its expansionist agenda under the guise of friendship with Nepal too. China is first building friendship with Nepal, after which it will invest some money to start big projects there and at the same time will enmesh Nepal in its debt. Gradually, Nepal will get caught in China's move and then China will start using Nepal's resources as it is doing in Pakistan at the moment.

For your information, let us know that the geographical position of Nepal between two big powerful countries like India and China is very important and that is why China is working on a very big plan for Nepal. Actually, China's diplomatic move is to worsen Nepal's relations with India. To achieve this diplomacy, China is trying to convince the Nepali people that India dominates Nepal and wants to seize its land and resources. The same China is trying to convince Nepalis that China can contribute better than India for Nepal's development.

The conditions in Nepal are also very favorable for China at this time. Nepal's Prime Minister KP Sharma Oli is considered pro-China and anti-India. At the same time, China has slowly made inroads into Nepal's markets with its products. Actually, it is easier for China to favor Nepal than other neighboring countries of India. This is why Nepal is economically, strategically and politically weaker than China, while Nepal is currently in need of development and the government there is unable to understand the expansionary policies of the Chinese Government in the temptation of Chinese investment. Now it has to be seen how long Nepal can understand the cleverness of China and how long it is able to get rid of it?
RELATED NEWS
August 11th, 2020
August 11th, 2020
August 10th, 2020