NCC cadets give a message of cleanliness to Bhopalites
Wednesday - December 11, 2019 1:08 pm ,
Category : EDUCATION
---
NCC cadets participate in the Swachhta Pakhwara rally and program
DEC 11 (WTN) -
As you know that Prime Minister Narendra Modi is engaged in the mission of Swachh Bharat. Prime Minister Modi wishes that the villages and cities of the country remain clean so that diseases should be in control and the villages and cities look clean and orderly. People's University, situated in Bhopal, has also been giving valuable contributions to Prime Minister Modi's Swachh Bharat Abhiyan. Cleanliness is very much taken care of in the People's University campus in Bhopal, and for this reason, the People's University campus is counted not only in the city but also on the clean university campuses of the state.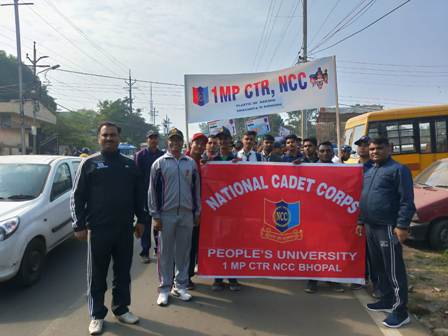 The NCC cadets of the university have made a large and commendable contribution to the cleanliness mission of the People's University. From time to time, the NCC cadets of the university not only contribute to keeping the university campus clean but they also actively participate in various activities related to it for the Swachh Bharat Abhiyan. In this context, NCC cadets of People's University under Swachhta Pakhwara attended a rally and the program organized recently and made Bhopalites aware of cleanliness.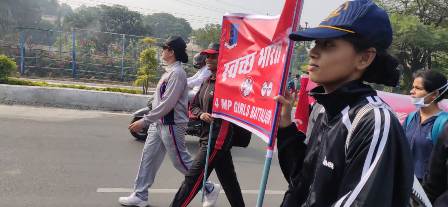 The rally of NCC Cadets started at the NCC Group Head Quarters Bhopal and via Boat Club and Raj Bhavan, it concluded at Jehan Numa Palace. The rally and program were attended by 66 NCC cadets of People's University led by NCC officers Captain Summi Chaudhary and Captain Ram Chaudhary. In this rally and program, NCC Cadets conveyed to the people of Bhopal that Bhopalites should use dustbin and contribute towards making Bhopal and the country clean.
RELATED NEWS
September 25th, 2020
September 25th, 2020
September 24th, 2020