Police should use new technology to prevent crimes: Kamal Nath
Friday - December 13, 2019 12:09 pm ,
Category : BHOPAL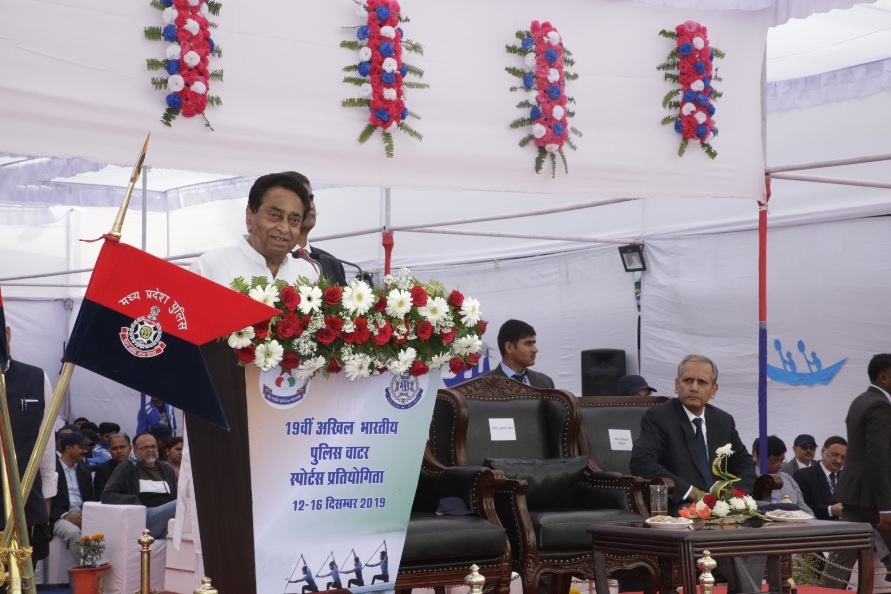 ---
CM inaugurates 19th All India Water Sports Competition

Bhopal, Dec 12, 2019: The Chief Minister Kamal Nath said that the police department should adopt new technology to prevent crimes strictly. He was inaugurating the 19th All India Water Sports Competition at Water Sports Centre situated at Upper Lake today.

The Chief Minister said that the functioning of police has become comfortable with the changes that have come across the globe and new technology. He further mentioned that with the new technology, the prevention of crimes has become easier. What is required is how we make new technology a part of our work and use it to strengthen the law and order.

He further said that talent comes to the fore from sports competitions. Sports also make people mentally and physically healthy. Sports competitions are important as they keep our police force physically and mentally healthy. Welcoming the players of the Central Forces, Para-Military establishments and Police department, came from the 20 states to participate in the competition, the Chief Minister expressed hope that the sportspersons will perform outstandingly in this competition.

Earlier CM received introduction from the captains of the teams participating in the competition and released a souvenir. Kamal Nath formally declared the sports competition open. The teams after conducting the march-past gave salute to the Chief Minister.




The function was also addressed by the Director General of Police V.K. Singh. The Additional Director General of Police Adarsh Katiyar, Senior Officers of the Police Department and sports fans in large number were present on the occasion.

It is to be mentioned that the Madhya Pradesh Police has been entrusted with the responsibility to hold the 19th All India Water Sports Competition by the All India Police Sports Control Board. The competition will continue till December 16. This competition is being organized in Madhya Pradesh for the fifth time. Kayaking, canoeing and rowing competitions will be held under the 19th Water Sports Competition.- Window To News
RELATED NEWS
March 31st, 2020
March 29th, 2020
March 13th, 2020