When innocent plan passengers killed by human mistake
Thursday - January 16, 2020 2:46 pm ,
Category : WORLD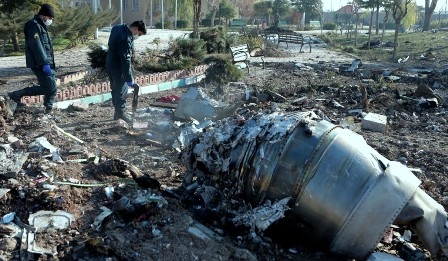 ---
When America targeted its own planes by mistake

JAN 16 (WTN) - As you are aware, the tension between the US and Iran is on the rise after the killing of Major General Qasem Soleimani of Iran in a drone attack by the US. To avenge the assassination of Qasem Soleimani, Iran attacked Iraqi-based US airbases with missiles, claiming that around 80 US soldiers were killed in these attacks. But later US President Donald Trump falsely called Iran's claims that 80 soldiers were killed. But during this time a mistake was made from Iran due to which the Government of Iran had to apologize to their country.

In fact, in the wake of the attack on the US bases, Iran accidentally targeted a Ukrainian passenger plane killing all 176 people on board. However, Iran said that everything that happened was in deception. At the same time, Iran has described this incident as a technical and human mistake. But for your information, let us tell you that this is not the first time that an aircraft has been targeted by mistake. Many such incidents have come to light before when the plans have been shut down accidentally, and the US Army itself has committed such mistakes many times in which many innocent people were killed.

Not only this but in times of war some countries shut down their own country's plane in the sky after assuming it's an enemy plane. For your information, let us tell you that a similar mistake occurred from America during World War II when in 1943 America shut down one of its own planes. Let us tell you that in July 1943 there was a large American army in Sicily during the Second World War. Meanwhile, on July 11, the American Air force had shut down a plane of its own army and killed 300 American soldiers while the plane was coming to rescue American soldiers.

After this, even in the year 1994, America had shut down a chopper of its own army into the air. In fact, at that time relief and rescue operations were being carried out in the affected areas after the Gulf War and many countries had operated to help the affected people. On April 14, 1994, two American Air Force F-15 fighters were patrolling the Jet over the no-fly zone area, but during this time they accidentally shut down two Black Hawk helicopters of their own country. Let us know that 26 people were killed in this accident, in which 15 Americans and 11 others were from other countries.

At the same time, during the Iraq war, America accidentally killed a British aircraft. As you know, after the 9/11 attacks, America waged war against Iraq. During this time, the US Army shut down a plane of the Royal British Air Force in a missile attack. However, this incident was reported much later in March 2003 from the UK that our plane seems to have crashed in the US missile attack. But due to old diplomatic relations, Britain had forgotten it as a friendly fire incident.

At the same time, you will be surprised that once an American pilot accidentally shuts down his own fighter plane. For your information, let us know that this incident happened on 21 September 1956, when an American pilot was on a test flight of Grumman aircraft. During his flight, he was to test-fire a 20 mm cannon. The American pilot fired for the first time and after that, he accelerated the speed of his aircraft and brought it down. The pilot's plane began to move rapidly downwards and during this time he fired another fire. But during this time the aircraft was going down rapidly and the first bullet of the pilot's fire itself hit his aircraft and the plane crashed.