Railway Minister indicates customers can get recompense if goods train delayed
Tuesday - January 21, 2020 4:25 pm ,
Category : BUSINESS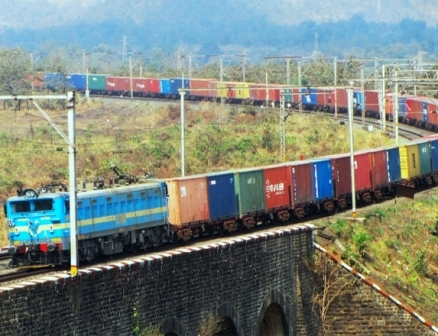 ---
So now the customers to get recompense if the goods train becomes late

JAN 21 (WTN) - The delay of passenger trains in the Indian railway network is not new. According to the Railways, passenger trains are delayed due to technical, manual and sometimes natural reasons. However, with time the Railways have realized their responsibility due to which all efforts are being made to ensure that passenger trains can run on time. In this context, the Indian Railways has started a new experiment in the form of the Tejas Express train, in which there is a provision to pay damages to passengers when the train is late. It is being said that in the plan of gradually running some trains of other routes on this pattern, the passengers will be recompensed if the train is late.

But as far as the delay in passenger trains is concerned, it is the best effort of the Railways that passenger trains run at the right time. But the timing of goods trains has never been right in the direction of running passenger trains on time. It is seen that goods trains arrive at their destination after a long time. Due to which delivery of goods gets delayed. But now the Railway Minister Piyush Goyal himself says that damages can be given to the affected customers on the lines of the Tejas Express train even if the goods train is late.

Actually, Railway Minister Piyush Goyal said this on the foundation day of DFCCIL (Dedicated Freight Corridor Corporation of India). On the delay of passenger trains and freight trains, the Railway Minister says that for the fast operation of passenger trains and freight trains, both need to have separate tracks. During this time, Rail Minister said that even if the goods train is late, the affected customers should pay damages.

According to Railway Minister Goyal, "The Indian Railways should also operate the goods trains with maximum use of the track and increase the average speed of the trains." For your information, let us know that the work of separate tracks for goods trains is going on continuously in the country. In the same sequence, DFCCIL has recently completed a 500 km dedicated freight corridor, and DFCCIL has to achieve the target of 991 km by March 2020.

But the timely operation of goods trains is not as easy. First of all, it is most important to operate goods trains according to the schedule. However, DFCCIL is working on consolidation, development, and improvement in this area so that passenger trains, as well as freight trains, can be run on time. Now it has to be seen how long the railway is able to meet its target and if the goods are late then the affected customers will get the compensation.
RELATED NEWS
April 5th, 2020