Atrocities with Muslims in the name of religion in China
Thursday - February 20, 2020 2:56 pm ,
Category : WORLD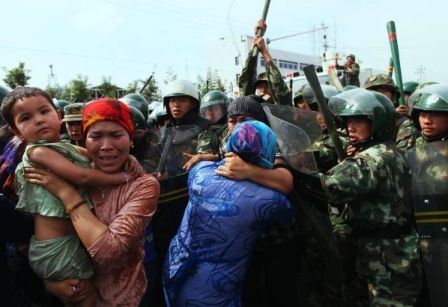 ---
Why Muslim countries keep silent on the 'cruelty' of China's leftist government?

FEB 20 (WTN) - China's leftist government with an expansionist mindset is notorious in the whole world for inhuman and cruel acts. People still shudder to read and hear about the brutality done by the Chinese leftist government to suppress the movement for democracy-supported students in 1989. From time to time, such news comes out from China, which shows that human rights are violated in China. It is said that China's leftist government commits many kinds of atrocities on its citizens, but due to media restrictions and censorship in China, the right information does not come out of China. More than 2,000 people have died in China recently because of the mistake and negligence of the Chinese leftist government because China government had tried to hide the Coronavirus case. It is clear from these examples that human rights are just a word under the rule of Chinese leftist government.

These days, Uygar Muslims are becoming victims of persecution of China's leftist government. Although Uygar Muslims have been inhumanely treated in China for quite some time, currently the Uygar Muslims are being treated more brutally by the leftist government of China. A very sensational document has revealed the brutality of the Chinese government. These documents contain the information of thousands of Uygar Muslims, who have been imprisoned by the Chinese government in the detention center.

By the way, Pakistan, a Muslim country, has a friendly relation with China. And China has always been using Pakistan as a weapon against India. Pakistan which continues to interfere in the internal politics of India in the name of Muslims, the same Pakistan has remained silent on the atrocities with Uygar Muslims in China. It is now being known to the whole world that Uygar Muslims are not being treated in China in the name of dealing with extreme terror, but they are being treated inhumanely because they are Muslims.

China's leftist government is persecuting the Uygar Muslims so much that some Uygar Muslim women are kept in detention centers simply because they wore the hizab. Not only this, a Muslim has been detained just because he had a beard. The extent of the brutality of China's leftist government was exceeded when many people were detained just because they were offering Namaz. Not only this, a woman has been taken into custody because she has produced more than three children.

Explain that this document leaked from China's government system contains information about thousands of Uygar Muslims living in Xinjiang province. According to the leaked document, China's leftist government is monitoring every activity of Muslims. That is what the Muslims eat, where they go, whom they meet, how many people are there in their family, and where they work? It is clear that the every little information of Uygar Muslims is with the leftist government of China. By the way, it is being said that only a small part of the information about atrocities with Muslims in China has been leaked. According to the leaked document, people kept in detention centers have been targeted only because they are Muslims. Many people housed in detention centers claim that they have nothing any relationship with terrorism or extremism, but they are kept in detention centers only and because they are Muslims.

At the same time, the Chinese government has a different argument on atrocities with Muslims. In this regard, China's left government says that it is running programs in Xinjiang province to overcome the incidents of rising anger and terrorism and to end religious extremism. There may be some people in Xinjiang province, but through such a program, China's leftist government is doing injustice to Uygar Muslims and is crossing all limits of cruelty with them. It is clear that the Chinese government is not allowing Uygar Muslims to carry out their religious beliefs and traditions, and in doing so, they are being kept in detention centers, calling them terrorists or extremists.

China's leftist government is treating Muslims inhumanely, but Muslim countries like Pakistan, Saudi Arabia, Iran, Egypt, and Malaysia are unable to muster courage to oppose China. Indeed, China today is a very large military and economic power. The economy of a country like Pakistan is deepened on China itself. At the same time, because of the good trade relations of China with other Muslim countries, these Muslim countries are not speaking anything against China. China's leftist government is crossing the limits of cruelty against Uygar Muslims, but Muslim countries are just looking after themselves. Indeed, before China's power, Muslim countries do not have the courage to retaliate.
RELATED NEWS
April 4th, 2020
April 4th, 2020
April 4th, 2020