Faith Cricket Club of Bhopal becomes a pioneer in the country in providing high-level cricket facilities
Friday - March 13, 2020 4:28 pm ,
Category : BHOPAL
---
Students learning the nuances of cricket from experienced cricketers at Faith Cricket Club Academy

MARCH 13 (WTN) - Many famous players of the country are participating in the T-20 Dhamaka FAITH CUP-2020 organized by Bhopal's famous FCC (Faith Cricket Club) Academy. In this tournament of ten lakh rupees prize money, 8 big teams of the country are performing their games. The final match of this tournament, which started on 8 March, will be played on 15 March. In the Faith Cup-2020, the country's famous players Robin Uthappa, Naman Ojha, Sarfaraz, and Arjun Tendulkar are showing their talent. Renowned teams of the country like DY Patil Academy, Air India, and Western Railway are participating in the tournament.

For your information, let us know that the FCC (Faith Cricket Club) located in Ratibad, Bhopal is a great cricket ground equipped with all the facilities of cricket. As you are aware that Bhopal is slowly becoming a metropolitan city, in such a situation, a world-class cricket ground in Bhopal was needed for a long time. Faith Cricket Club Academy is seen completing this demand of Bhopal. When we discussed the Faith Cricket Club to the Chairman of Faith Cricket Club Academy, Raghavendra Singh Tomar, Tomar said that the FCC Academy's ground is the first ground in the country to provide world-class cricket facilities on a private level.




Elaborating on Faith Cricket Club, Raghavendra Singh Tomar said, "Bhopal has long needed a high-level cricket ground to provide a platform to cricket players and those who learn cricket. We have built this ground in such a way that in addition to the IPL, other big cricket tournaments can be organized here. Currently, the ground has a capacity of 2,000 spectators. But in the coming time, the capacity of the audience will be increased, so that more and more people can enjoy cricket."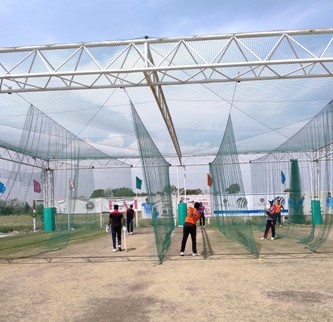 Tomar says, "Cricket talent cannot be built, but it can be discovered and once cricket talent is found, it is our objective to provide the proper training and platform. Our aim is to identify the talented cricketers and to identify and develop the talent of the young cricketers. We do our best to provide a platform for the students who adopt cricket as a career so that they can adopt cricket as a profession. Our academy has coached with international cricket experience to train students on cricket. It is my whole endeavor that the students trained in my academy will one day get selected in the Indian cricket team and play for Team India."

For your information, let us know that children are being trained in cricket by high-level coaches at Faith Cricket Club Ground. Faith Cricket Club has all the facilities for the players that they need. The players have been provided with high-end facilities like AC room, well-organized mess, swimming pool, and gym. Let us know that Faith Cricket Club has two grounds, in which two matches can be held simultaneously. Floodlight is also arranged in one of these two grounds and matches are being organized here at night. For your information, let us know that the players in Faith Cricket Club Ground have been provided with high-end facilities for net and ground practice.




Giving further details about Faith Cricket Club, Raghavendra Singh Tomar stated, "Faith Cricket Club's ground has been made high-level only under the BCCI and MPCA rules. Sanjay Jagdale himself has visited this ground, and according to him, soon a team of BCCI will also visit Faith Cricket Club, after which IPL or other cricket competitions may be held here. Our aim is to provide a platform for cricket players to play. And in this field, we are a pioneer across the country."

For your information, let us know that teams of some other countries including Afghanistan have shown interest to play and practice in Faith Cricket Club. Regarding Faith Cricket Club, Raghavendra Singh Tomar says. "Everything from grass to pitch in the ground is of international standard. And we do our best to soon play the famous players of the country and foreign in this ground so that the people of Bhopal will get the chance to enjoy the game of these players." Soon, world slandered tournaments will be played on the Faith Cricket Club, which is situated in the country's cleanest capital Bhopal, and this will make Bhopal's name famous all over the world for providing quality cricket facilities.
RELATED NEWS
May 29th, 2020
May 22nd, 2020
May 19th, 2020