Nepali Prime Minister Oli adopts anti-India agenda to hide his 'failure'
Tuesday - June 30, 2020 1:17 pm ,
Category : WTN SPECIAL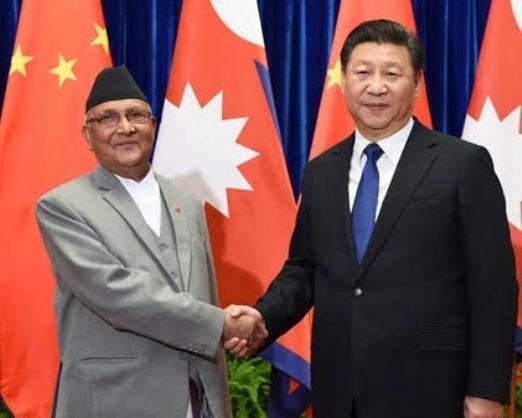 ---
Nepalese Prime Minister Oli takes self-destructive decision because of the questions rise on his working
JUNE 30 (WTN) - India and Nepal have had buddies for centuries. There has been so much intimacy between India and Nepal that citizens of both countries do not get visas to travel to each other's countries. But the Prime Minister of this leftist government of Nepal K.P. Sharma Oli is working on the anti-India agenda these days.
Whenever a country makes a strategy against any other country, in addition to the diplomatic reasons behind it, the ruler of that country also has his own ambitions. In fact, it is the strategy of a ruler trapped in the lurch to start pointing foreign forces for toppling his government.
Yes, the Prime Minister of Nepal K.P. Sharma Oli is trying his old formula of anti-India nationalism once again only after seeing questions rise on his working. According to the information, due to the questions arising in Nepal about its policies and functioning, the Prime Minister of Nepal, Oli, is implementing the anti-India agenda at the instigation of China.
Nepal's Prime Minister Oli, who has been caught in the clutches of China, has claimed that meetings are being held at a hotel in Kathmandu to topple his government and remove him from the post of Prime Minister, and an embassy is also active in such a conspiracy.
As you know, the Prime Minister of Nepal, Oli, who is working at the behest of China, has passed a new map of Nepal in the Parliament of Nepal. Explain that the new map of Nepal shows India's Kalapani, Lipulekh, and Limpiyadhura included in Nepal. Although the Nepalese were happy with this anti-India decision of Oli, but the Nepalese have forgotten that if India imposed an economic blockade like 2015, the prices of essential commodities in Nepal would skyrocket.
Significantly, Oli signed a trade and transit agreement with China in his last term. Oli's government fell after this. Oli holds India responsible for his government's fall.
In fact, due to his failed administration, questions on the functioning of his own party, and the challenges being faced by other big leaders of the party, Nepal's Prime Minister Oli is seeking the support of the Nepalese people through the anti-India agenda.
For this reason, Oli released a new map despite India's objections. He then announced a new citizenship law in Nepal, which provides the citizenship of Nepal after seven years to those women who marry Nepalese men. Not only this, but Nepal's Prime Minister Oli has also blamed India for spreading the Coronavirus infection in Nepal.
For your information, let's know that in the last few days, the demand for Oli's resignation within the party has increased. Many senior leaders of Oli's party are angry against Oli's manner of working and uniting against him.
Actually, the biggest challenge for the Prime Minister of Nepal Oli is the senior leader Pushp Kamal Dahal of his own party. Let you know that Pushp Kamal Dahal has also been the Prime Minister of Nepal. Dahal has indirectly targeted Prime Minister Oli's work. A party faction led by Dahal accuses Oli of monopolizing the party and taking unilateral decisions.
Here, Nepali Prime Minister Oli feels that former Prime Minister Pushp Kamal Dahal is involved in the conspiracies behind toppling his government. According to Nepali politics experts, if the former Prime Minister Dahal's group fails to agree to the current Prime Minister Oli on some issues on few terms, then Dahal's group will try to remove Oli from the parliamentary party.
Explain that if a motion of no-confidence is brought against Oli, the Prime Minister of Nepal K.P. Sharma Oli may have to face the shortness of 8 seats to save his government. It is clear that the Prime Minister of Nepal K.P. Sharma Oli is working on the anti-India agenda after becoming a puppet of China to divert the attention of Nepali people from his own failures.