Health & Education topmost priorities for 'Atma-Nirbhar Swasth Madhya Pardesh'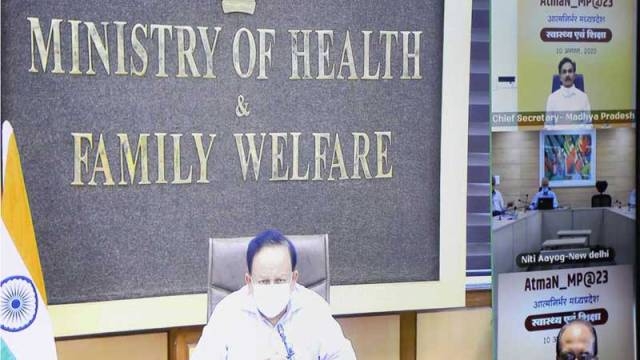 ---
Will soon achieve target of 'Universal Health Coverage and 'Universal Immunization'-CM Chouhan
Good work to control Corona done in adverse circumstances in M.P.-Union Minister Dr. Harshvardhan


Bhopal 10 August 2020: The Chief Minister Shivraj Singh Chouhan has said that work is being carried out speedily in the direction of 'Atma-Nirbhar Swasth Madhya Pradesh' to realize the dream of 'Atma-Nirbhar Swasth Bharat' of Prime Minister Narendra Modi. Health and Education is the topmost priority of the government. All possible efforts will be made to achieve goals, set on the basis of suggestions received today on these subjects in the webinar. Target of 'Universal Health Coverage' (Good health facilities for every person) and 'Universal Immunization' (Vaccination of every child) will be achieved soon. He further stated that the guidance of the Union Minister Dr. Harshvardhan will prove to be a milestone in improvement of health services.

The Chief Minister Chouhan was addressing the concluding session of the webinar held on the subjects of health and education under the 'Atma-Nirbhar Bharat' today. The Minister for Water Resources Tulsiram Silawat, Minister for Public Works Gopal Bhargava, Minister for Sports and Youth Welfare, Technical Education, Skill Development and Employment Yashodhara Raje Scindia, Minister for Medical Education Vishwas Sarang, Minister for Women and Child Development Imarti Devi, Minister for Public Helath and Family Welfare Dr. Prabhuram Choudhary, Minister for Higher Education Dr. Mohan Yadav, Minister for Tourism, Culture and Adhyatm Usha Thakur, Minister for Micro, Small and Medium Enterprises and Science & Technology Omprakash Saklecha, Minister of State for School Education (Independent Charge) Inder Singh Parmar, Minister of State for Ayush (Independent Charge) Ramkishore Kanwre, Members of NITI Aayog and Subject Experts attended the webinar.

The Union Minister for Health and Executive Board Chairman of World Health Organization Dr. Harshvardhan said that due to the corona crisis, the situation was formidable when Shivraj Singh Chouhan took the charge of the Chief Minister of the state. The pandemic was spreading in the state and there were no arrangements to combat corona. But the Chief Minister Chouhan controlled the corona effectively by working day and night. Despite found positive, he constantly monitored the work from the hospital, for which he deserves compliments. Dr. Harshvardhan further mentioned that commendable work is being carried out in the leadership of the Chief Minister Chouhan in the direction to realize the dream of 'Sabke Liye Swasthya' of the Prime Minister Narendra Modi.

Good work for T.B. Control in Madhya Pradesh

Dr. Harshvardhan said that excellent work is being carried out in Madhya Pradesh to achieve the target of eradicating tuberculosis (TB) totally from the country by 2025, set by the Prime Minister Narendra Modi. The T.B. Officer of Dewas district of the state is an example, who is tracking this disease from house to house and has set a target for eradicating T.B. by the year 2022.

10 thousand 500 "Health and Wellness Centres" in Madhya Pradesh

Dr. Harshvardhan said that remarkable work is also being done in the direction of establishing health and wellness centres in Madhya Pradesh. About 10 thousand 500 health and wellness centres are to be built in the state, out of which 2986 centres have been built so far and about one crore people have been benefited through them. Apart from treatment, training to maintain general good health through yoga, pranayama etc. is also being given in these centres, which is commendable.

Good care of newborns

Health Minister Dr. Harshvardhan appreciated SNCU (Sick Newborn Care units) in hospitals in the state for good care of newborns. He stressed the need for intensive efforts to minimize maternal and infant mortality in the state.

Effective implementation of Ayushman Bharat Yojana

Chief Minister Chouhan said that quality health facilities will be provided to every person through the effective implementation of Ayushman Bharat Yojana and services of "Health and Wellness centers" in the state. "Telemedicine", the new system of medicine will be publicized more and more in the state. Maximum importance will be given to AYUSH and work will be done to maintain good general health through Yoga, Pranayam, Naturopathy etc. in the state.

Employment Oriented Education from Class VIth

Chief Minister Chouhan said that the provisions of the new education policy will be implemented with promptness in the state and vocational and employment-oriented education will be imparted to children from Class VIth itself. Focus would be laid on technical skills and skill development of children.
Chief Secretary Iqbal Singh Bains proposed the vote of thanks. Additional Chief Secretary Mohammad Suleman introduced the subject.

8 Goals of Health Services

1. Achieving universal health coverage (UHC)
2. Achieve SDG goals for IMR, MMR and Life Expectancy
3. Strengthening and upgradation of health facilities
4. Ensuring convergence between health institutions
5. Promote use of an integrated IT platform for Health Management Information System (HMIS) and Electronic Health Record (EHR)
6. Improve the quality of health professionals and paramedical staff
7. Creating a conducive ecosystem for promoting research in health sector
8. Emphasis on prevention and early diagnosis of illnesses

7 Goals of Technical Education & Skill Development

1. Increase Gross Enrolment Ratio to 4.5%
2. Increasing placement rate in technical institutions
3. Regular teacher recruitment and cadre management
4. Use of technology for training delivery & Technology aided assessments
5. Fostering industry partnerships and Aligning curriculum with industry requirements
6. Futuristic campuses with upgraded equipment and laboratories
7. Promoting entrepreneurship related activities, Providing grants to Start-ups & Ensure functioning of incubation center by 2021.

5 Goals of Higher Education

1. The gross enrolment ratio (GER) to be increased to 25%
2. Gender parity index to be increased to One
3. Partnership with industries for introduction of Certificate/Diploma Vocational Courses in Colleges
4. Promotion of Research, Innovation & Enhancing Employability
5. Accreditation and Ranking of colleges

03 Goals of School Education

1. Top 10 & 5 positions in the country for MP
2. Participation in Programme for International Student Assessment(PISA)
3. Improvement in Board Examination results for Class 10th – From 64% to 74% (10% increase) and
Class 12th – From 71% to 77% (06% increase)

Important points of health
Eighty-one subject experts took part in four groups.
Eight targets set in the health sector.
Target set for prioritizing Universal Health Coverage, improvement of IMR and MMR, strengthening health facilities, mutual co-ordination with health institutions, increasing use of IT, increasing capabilities of medical staff, promoting research and prevention from disease.
Priority to ensuring health facilities and making resources available in remote areas of the state.
Eight percent of the state budget is expenditure on health.
Plan to develop "Centre of Excellence" and district hospitals in cities so that people do not have to go outside the state for treatment.
Suggestions to merge the Department of Medical Education and Public Health and Family Welfare.
"AYUSH Super Specialty Hospitals" to be developed in Bhopal and Indore.
"Bio Medical Park" to be set up to promote manufacturing of medical equipment in the state.
Private investment to be encouraged in medical sector.
Important points of skill upgradation
Courses should be developed as per the requirement of industries.
Strategy for placement of trainees from technical institutions.
Special initiatives for training and research.
Special programme for training of trainers.
Prestigious institutions and universities will be "Knowledge Partner" and "Mentor".
New practical courses in the field of agriculture.
Use of "Global Skill Park" being developed in Bhopal.
Important points of Higher Education
Promotion of private sector institutions in higher education.
System of virtual and smart classes.
Development of selected colleges as "Quality Learning Centers".
Functional autonomy of institutions.
Promotion of "distance learning".
Setting up of "M.P. Knowledge Corporation".
Important points of School Education
Ten thousand schools will be resource rich which will be called "CM Rise School".
"Mission Ankur" for improvement in language and mathematics education.
Promotion of digital education.
Third party evaluation system.
Focus on teacher training
Coaching of competitive examinations for school children.
Recommendation to bring private schools under the Companies Act – Window to News
RELATED NEWS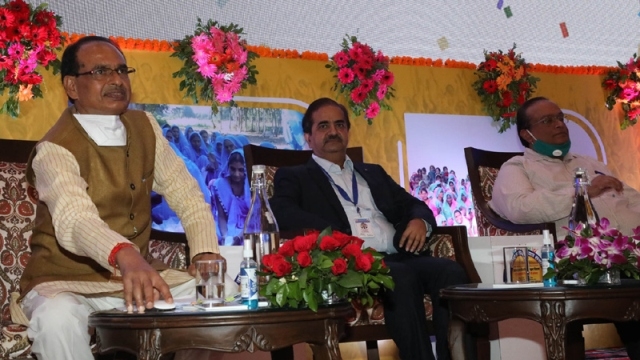 September 20th, 2020
September 20th, 2020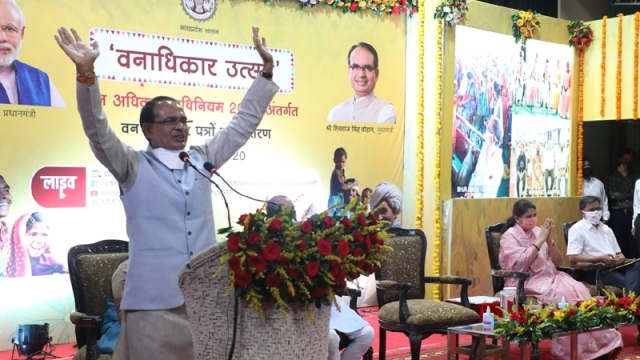 September 19th, 2020