Tribals have equal rights to opportunities for development – CM Chouhan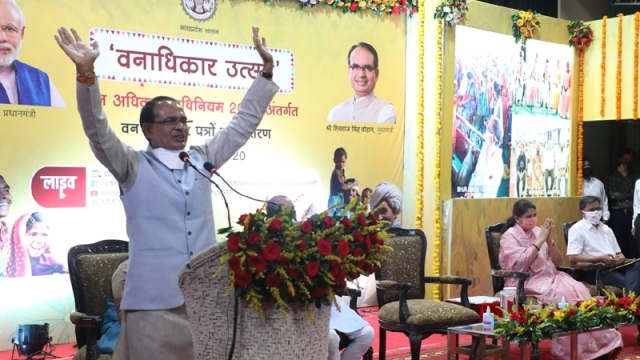 ---
All opportunities for progress are available to students of Scheduled Tribes
Tribal development budget increased from Rs 635 crores to Rs 7,384 crores
Chief Minister Chouhan distributes Van-adhikar patras


Bhopal 19 September 2020: Chief Minister Shivraj Singh Chouhan said that he has seen the suffering and struggle of the tribals since childhood. Since childhood he yearned to improve their condition. We have always ensured that the tribal brethren of the state do not have to suffer any loss. There should be no compromise with their respect. Our ideology is that one who is at the bottom of the society, are the poorest, they are our God and we will leave no stone unturned to bring them forward. The system of this government is to met out justice to every poor and serve the people better. The tribals have eqaual rights to all resources and development opportunities to live their lives. The state government is committed to giving them this right. Chief Minister Chouhan was addressing the "Vanadhikar Utsav". On this occasion, Chief Minister Chouhan distributed Van-Adhikar Patras and also released the Vandhikar Pustika. Chouhan also interacted with the beneficiaries.

Tribal and Scheduled Castes Welfare Minister Sushri Meena Singh and Minister of Micro, Small and Medium Enterprises and Science and Technology Om Prakash Sakhlecha were also present in this state level programme organized at the Tribal Museum under Gareeb Kalyan Saptah. Forest Minister Vijay Shah, joined the meeting through video conferencing from the hospital where he is undergoing treatment for Corona.

Number of tribal schools increased by 112 percent
It is necessary to talk to you – CM Chouhan
Chief Minister Chouhan told Bhur Singh of Guna that it is necessary to talk to you so that I can know about your well-being. This will also help us know whether you all are able to avail what all the government is thinking and doing for all of you without any misappropriation of funds. Chouhan also sought information about children's education, housing, gas chulha, irrigation system etc. from Bhur Singh.
Chief Minister Chouhan said that the state government is constantly active for the welfare and development of tribals. A network of roads has been laid down all over the state. Our effort is that every child and girl belonging to the Scheduled Tribes category should get all opportunities to pursue studies. A large number of ashrams, schools, hostels, Eklavya schools have been established in the state. The tribal welfare budget was only Rs 635 crores in 2003-04, which has now increased to Rs 7,384 crores. In the last 15 years, number of tribal high schools has risen by 112 percent, higher secondary schools by 81 percent, sports complex by 85 percent and an unprecedented rise in the number of pre and post matric hostels.

The state government is making all possible arrangements for education. The scholarship process has been simplified. In order to ensure better and transparent arrangements in hostels, vigilance was increased by making children and parents participate in the hostel management. The state government will soon start senior hostels and college hostels as well. Fifty tribal high schools of the state will be upgraded to higher secondary schools. Our effort is to ensure that children of Scheduled Class also learn computers. For this, IT centres and video conferencing rooms are being built in 33 Eklavya schools at a cost of Rs 7 crore 20 lakh. Along with the construction of school buildings, construction of 25 new hostel buildings is in progress at a cost of Rs 50 crores.

Arrangements have also been made to provide rent to help students who go to cities to pursue further studies after school education and who are unable to find hostels. Scholarship is being provided to 50 students of the state every year to enable students of Scheduled Tribes to get education abroad. Every effort is being made to change the life of this class. As many as 24 residential sports complexes have been set up to train and nurture the talents of tribal children.

Every eligible person will get Vanadhikar Patras
Good morning Mamaji
Chief Minister Chouhan spoke to Smt. Noharwati of Anuppur and her daughter Seema. When Seema wished him saying good morning Mamaji, Chief Minister Chouhan's joy knew no bounds. Seema said that I want to become a doctor. Chouhan told her not to worry about her fees and to become a doctor when she grew up. Even otherwise, we need more doctors due to Corona. The Chief Minister sought information from Smt. Noharbai whther she had got her patta and about irrigation system.
Chief Minister Shivraj Singh Chouhan said that the state government is going to distribute forest rights pattas to 23 thousand beneficiaries. It is the duty of our government to empower every tribal. Every tribal residing in the state before 2006 will be given a patta. The campaign to grant pattas to such tribals will continue.

Self-help groups shoul make local vocal

Chief Minister Chouhan said that along with agriculture, we also have to pay attention to other means of generating income. The state government is also arranging training for setting up small scale industries. Self-help groups are emerging as a major force in tribal areas. Referring to the women's self-help group of Kesla in Hoshangabad district, he said that poultry farming and making of chicken feed has generated an income of Rs 3 crore. Praising the self-help groups of Anuppur and Dindori, Chief Minister Chouhan motivated the tribals to form self-help groups. Chouhan said that Prime Minister Narendra Modi is encouraging local to be vocal.
Therefore, initiative should be taken to start an enterprise based on things made from material available at the local level. Tribal Welfare Department will also extend support. The state government has also started a programme for rural street vendors, in which assistance of Rs. 10,000 will be provided to those who start small scale business.

Loans against rules up to August 15 waived
Collector Saheb build pond for Sagariya's fields
Sagariya brothers of Dhar came to meet Chief Minister Chouhan dressed typical tribal attire. Chief Minister Chouhan enquired about crop, forest rights pattas and irrigation facility. Sagariya stated the need for irrigation system. On this, Chief Minister Chouhan instructed the Collector to construct a pond in the village.
Chief Minister Chouhan warned the tribals to be alert from the clutches of moneylenders. He said that the rate of interest on loans given by moneylenders has been fixed through laws in the state. Now no moneylender will be able to charge more interest than the prescribed rate. He said that loans given to the tribals against rules till August 15, 2020 will not have to be repaid. All those loans have been waived.

Chief Minister Chouhan said that the state government is constantly working to provide better living. Concrete houses will be provided to all in the next three years. It will also be ensured that tap water is available in every house. Clean drinking water will be provided on priority basis in tribal rural areas, where there is risk of diseases caused by fluoridated water. Clean drinking water will be made available on priority basis in such places. Chief Minister Chouhan said that Rs 1000 per month is being provided to every woman to remove malnutrition among women belonging to the backward tribes like Baiga, Bharia, Sahariya. Rs 100 crores have been transferred to the accounts of these women in the last five months.

Value of minor forest produce fixed

Chief Minister Chouhan said that the rehabilitation of degraded forests and the decision of the state government to fix the value of minor forest produce will be helpful in the empowerment of tribals.

Irrigation arrangements will be made for beneficiaries receiving Vanadhikar Patras

Chief Minister Chouhan said that irrigation arrangements will be ensured for all beneficiaries receiving vanadhikar patras. Efforts will be made in this direction under MNREGA scheme. This will increase their income besides making loans available for fertilizer and seeds at zero percent interest. Crop insurance will also be provided.

Criminal cases will be withdrawn

Chief Minister Chouhan said that small criminal cases involving tribals will be withdrawn. Tribals will not have worry about visiting courts or other complications.

Chief Minister Chouhan said that the schemes being run in 89 tribal dominated development blocks of the state will also be implemented in blocks with comparatively less tribal population.
Chief Minister Chouhan said that initiative will be taken to provide a new identity to tribal folk arts. There is a need to preserve education, sacrifices, life values, traditions of tribals. The tribal community has never lagged behind in sacrificing for the country. Recalling martyr Birsa Munda, Jananayak Tantya Bhil, Bhima Nayak, Maharani Durgavati and Rani Kamalavati, Chouhan said that the birth anniversary of martyr Birsa Munda will be celebrated ceremoniously on November 15. By making a roadmap for Atmanirbhar Madhya Pradesh, the self-sufficiency and self-respect of triabls will be ensured. Chief Minister Chouhan held a discussion with beneficiaries who received the vanadhikar patras including Smt. Noharwati of Anuppur, Sagariya of Dhar and Bhursingh of Guna through video conferencing. Chief Minister Chouhan provided vanadhikar patras to the beneficiaries of Raisen, Sehore, Vidisha and Bhopal.

The programme began with the Madhya Pradesh Gaan. In her welcome address, Tribal Welfare Minister Sushri Meena Singh said that Chief Minister Shivraj Singh Chouhan has understood the suffering of tribals and has made every effort in the last 15 years to remove it. The work of providing vanadhikar patras was started first in Madhya Pradesh in the whole country on the initiative of Chief Minister Chouhan. The biggest achievement is in the tribals acquiring their right to their land and is the basis of their life. Sushri Meena Singh also urged the Chief Minister to provide laptops to tribal students. Principal Secretary Scheduled Caste and Tribal Welfare Smt. Pallavi Jain Govil proposed the vote of thanks.
The programme was telecast live through Doordarshan, regional news channels as well as webcasts, Twitter, Facebook and YouTube. Vanadhikar patras were distributed to beneficiaries by ministers and public representatives at district level programmes – Window to News




RELATED NEWS
October 22nd, 2020
October 21st, 2020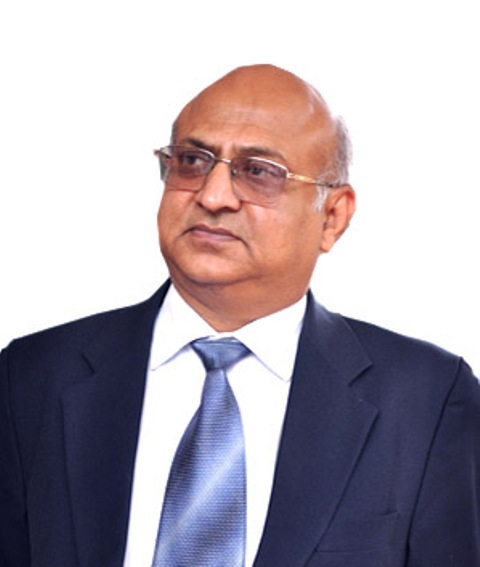 October 19th, 2020