'Empowered women will make strong Madhya Pradesh'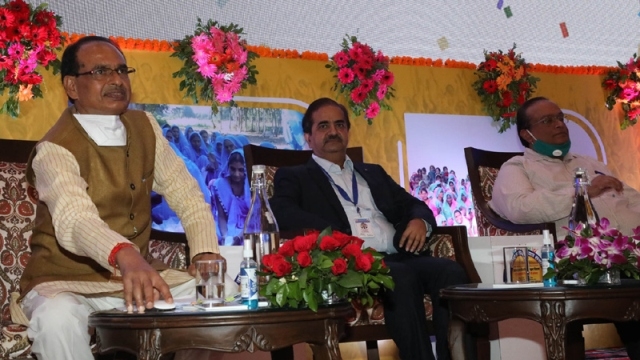 ---
Not only big industries but domestic entrepreneurship will make Atmanirbhar Madhya Pradesh
Priority will be given to self-help groups in government purchase
CM Chouhan inaugurates Self-Help Group Credit Camp
Approval to loan distribution of Rs. 164 crore and Revolving Fund of Rs. 70 crore


Bhopal 20 September 2020: Chief Minister Shivraj Singh Chouhan has said that only empowered women will make strong Madhya Pradesh. Setting up of large industries alone does not make any state big. House to house self-reliance develops self-respect and trust. In the Corona period, women's self-help groups have set a new example in the country. This series will continue and will expand. So far, 33 lakh women have linked self-help groups. We have to move forward on the path of self-reliance in the next three years by further connecting 33 lakh women to groups. Chouhan was addressing the state level programme of Bank Loan disbursement to self-help groups, organized at hall at Minto today.
Loan limit increased from Rs. 300 crore to 1400 crore
Chief Minister Chouhan said that the state government is always ready to help and guide self-help groups. The loan limit through banks has been increased from Rs. 300 crore to 1400 crore. Decision has also been taken that the bank interest rate will not be more than 4 percent. The state government will bear the additional interest above this rate. Assuring the Bankers, Chouhan said that the repayment of the self-help groups is more than 97 percent. The loan given to them is the most secured loan.
Chief Minister Chouhan launched a self-help portal, developed for the activities and marketing of self-help groups. A revolving fund of Rs. 70 crore and community investment fund was given with a single click by CM Chouhan to the self-help groups.

As a symbol of the disbursement of loan of Rs. 164 crore in the state, the Chief Minister Chouhan also provided cheques of sanctioned loans to some women self-help groups. Chief Minister Chouhan also held talks with the beneficiaries of various districts. The Minister of State for Panchayat and Rural Development Ramkhelavan Patel participated in the programme, organized at Minto Hall Bhopal via video conferencing from Satna. Additional Chief Secretary Panchayat and Rural Development Manoj Shrivastava, Convenor of State Level Bankers Committee S.D. Mahorkar and other officials were present at the programme. Members of self-help groups attended the programme taking all precautions for protection from Corona like wearing masks and maintaining social distancing.

Women are competent in protecting from every disaster

Chief Minister Chouhan said that the state government is working on every aspect to provide equal status to girls and women in the society. Whether it is launching of Ladli Laxmi Yojana or the facilities provided for the school education, the goal is to provide equal status to them. Women have been linked with self-help groups to make them financially strong and self-reliant; this initiative is based on the principle of strength in unity. Chief Minister Chouhan also narrated a motivational incident on the strength of unity before the women of the groups. Chief Minister Chouhan said that respect to sisters and daughters is paramount in our tradition. Even in religious beliefs, women were considered as all-powerful. The women of the state proved during the Corona period that they are competent in protecting from every disaster. Masks and PPE kits, made by women self-help groups greatly helped the common people and the government. The items prepared by the groups were purchased by the health department, medical stores and hospitals.

Priority to products of women self-help groups in government purchase

Chief Minister Chouhan said that products of self-help groups will be given priority in government purchase. Self-help groups will also produce and distribute ready-to-eat nutritious food meant for distribution in Anganwadi centres. The uniform stitching work at school level will also be done by the self-help groups. In this self-help groups will be given full autonomy.
Freed from debts of moneylenders
Talking to the Chief Minister Shivraj Singh Chauhan, the President of Asha Aajivika Self-Help Group of village Khatakhedi of Dewas district, Sadhna Nagar said that the women of the village have been freed from the debts of the moneylenders. Now gets help in times of need from the group. Smt. Nagar said that she herself has started a garment shop. The Chief Minister said that the government has the same intention that the people of the state should get rid of the clutches of moneylenders. Also, stringent rules have been made in this regard.He said that self-help groups also have to ensure whether the schemes being run by the government are functioning properly in the villages. In case of any problem, then they have to inform about it, to enable the government to take action. Chief Minister Chouhan said that self-help groups should also generate awareness among people as regard to protection from Corona.
Choose activities as per the local requirements

Chief Minister Chouhan said that the family and society move forward by education and empowerment of women. Citing examples of women, active in self-help groups of Shivpuri, Shahdol, Betul, Hoshangabad and Dindori, he said that other self-help groups also need to take initiative, taking inspiration from them. The Prime Minister Narendra Modi is continuously working on making the local vocal. Women's groups besides pickles, chutney and papad, should also undertake economic activities and production of items from the material available locally as per the people's requirement.

While encouraging the members of the self-help groups, Chief Minister Chouhan said that the government is with you in every situation. There is no need to panic and to be disappointed in any situation. The steps taken by the women in the direction of entrepreneurship will lead the family and society on the path of progress and the state towards self-reliance.

Chief Minister Shivraj Singh Chouhan interacted with the Heads of rural women self-help groups of Damoh, Dewas and Shivpuri.

Linking with group gave me an opportunity to talk to you

Bhagbai Patel, President of the Chandi Mata Self-Help Group of Sataria Gram Panchayat of Damoh district, said she used to work as a labourer before joining the group. She had monetary problems; she opened a tea-shop after joining the self-help group, which was shut during Corona. She again started a grocery shop with the help of the group and now earns up to Rs. 9 thousand per month. Chief Minister Chouhan said that this means that she benefited from joining the group. To this, Bhagbai said that the biggest advantage she received today is that 'Aaj Aapse Baat Ho Gayi'. Bhagbai said that as a result of joining the group, her visits to bank and market have increased in connection with the grocery shop. This has instilled confidence in her and the scope of understanding the world has also increased.
Special training arrangement will be made for packaging and marketing
Chouhan said that the state government is also making arrangement for special training of self-help groups in production, packaging and marketing. For this, an institute will be set up at the state level and experts will be available for guidance at every level. Online trading and e-platforms will be made available for better marketing of the products of the groups. It is our effort that women joining groups get permanent work and earn an income of at least Rs. 10 thousand per month.
Made PPE kits along with masks as per the demand

Rakhi Prajapati, President of Khati Baba Self Help Group of Khairaghat Gram Panchayat of Shivpuri, showed the PPE kit made by the group to the Chief Minister Chouhan. She informed that the group started making masks due to Corona. Then the demand for PPE kits started pouring in. Sale of both these items is still good. Rakhi Prajapati further said that there was good sale of Ganesh ji' clay idols during the Ganesh Chaturthi. On this, Chief Minister Chouhan said that the benefit of self-help groups is that the money of the village should remain in the village, do not go out. Prosperity and happiness should increase in the village itself.

The Minister of State for Panchayat and Rural Development Ramkhelavan Patel said via video conferencing that all possible efforts will be continued for economic progress by connecting families of rural areas with agriculture and other non-agricultural based activities. In the programme begun with 'Madhya Pradesh Gaan', a film focusing activities of self-help groups was also exhibited in the beginning. Chief Minister Chouhan gave cheques symbolically to self-help groups of village Ratua, Ratanpur, Gunga, Amla and Khurchani of Bhopal district under the loan disbursement programme, organized in the whole state.
First labour, now our own work
Bhagwati Yadav of Shivpuri told the Chief Minister Chouhan that the women of the village, who used to work as labourers are now doing their own work by staying at home after joining thegroup.She herself started the shop first, now plans to open a beauty parlour.
Additional Chief Secretary Panchayat and Rural Development Manoj Shrivastava informed that under the livelihood mission, so far, 33 lakh needy poor families of rural areas were linked with more than 3 lakh self-help groups and an amount of Rs. 1523 crore was provided to them in the form of bank loan. More than 11 lakh 54 thousand families of over 43 thousand villages of the state have been linked with agriculture and animal husbandry activities. Similarly, over 3 lakh 69 thousand families have been connected to micro activities. In order to ensure that the poor families do not face problems in availing benefits of the schemes, the beneficiaries' oriented schemes are being made more practical, simple and transparent by the government.

The programme was telecast live through Doordarshan, regional news channels as well as webcast, Twitter, Facebook, YouTube. Ministers and public representatives were present at the district level programmes – Window to News

RELATED NEWS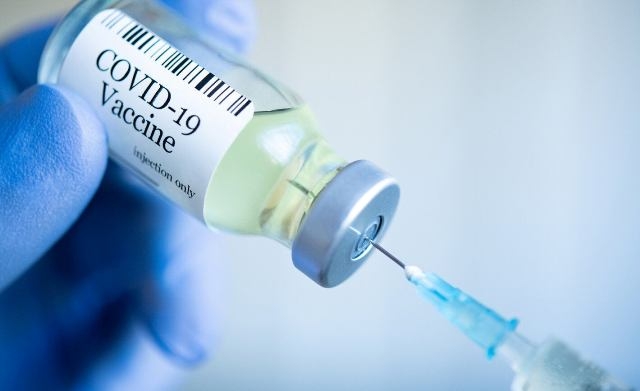 September 27th, 2021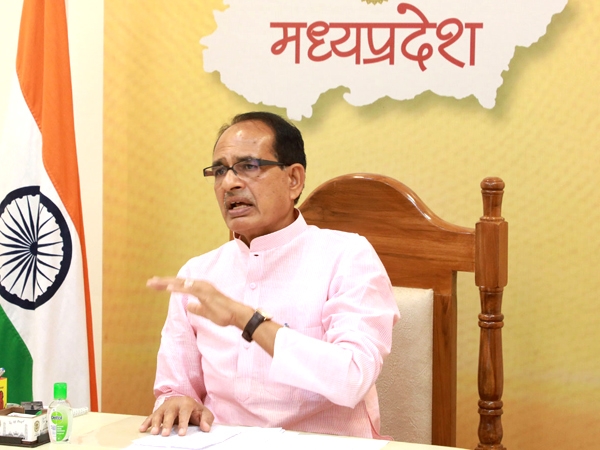 September 25th, 2021
September 24th, 2021