Vegan Coconut Curry
Sunday - October 18, 2020 10:51 pm ,
Category : RECIPES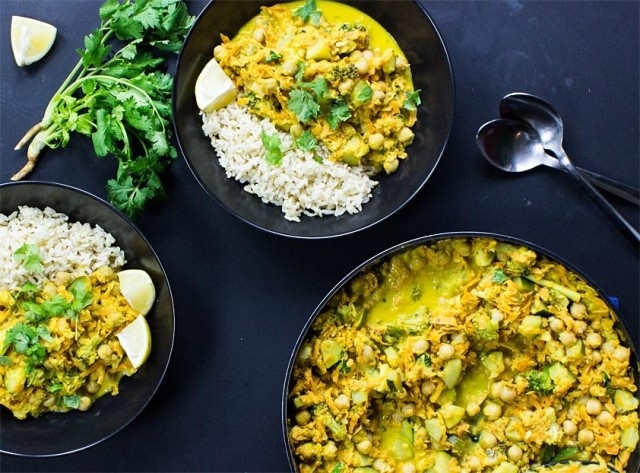 ---
Ingredients:
2 cup brown rice
1 tbsp
olive oil
1 cup broccoli (or use green beans)
2 spring onions
1 sweet potato
2 carrot
1 zucchini
2 sticks lemongrass
1 tsp curry powder
1 tbsp
yellow curry paste
(or red for hotter, green for hottest!)
1 can
coconut milk
2 can
chickpeas
(15 oz = 435g, drained and rinsed)
1 tbsp
maple syrup
½ tsp
salt
2 lemon (juiced; lime works too!)
1 cup
cashews
(roasted; or use peanuts)

Method:
If serving with rice, get that cooking now according to package instructions.
Grate the sweet potato and the carrots.
Chop the spring onion, broccoli, and zucchini.
Add the olive oil to a large pan and fry all the veg on a medium heat. This needs about 5-7 minutes.
Next, add the curry powder and curry paste, and the beaten (smack it with a heavy spoon a few times to let out the flavour) lemongrass.
Drain and rinse the chickpeas.
Stir and fry for another couple of minutes then add the coconut milk, chickpeas, lemon juice, maple syrup and salt. Let it simmer for another 5 minutes.
Alright, that's it. Take out the lemongrass. Serve with rice and top with roasted cashews or peanuts. Easy. Awesome.