Creamy curry prawns
Thursday - January 14, 2021 2:10 am ,
Category : RECIPES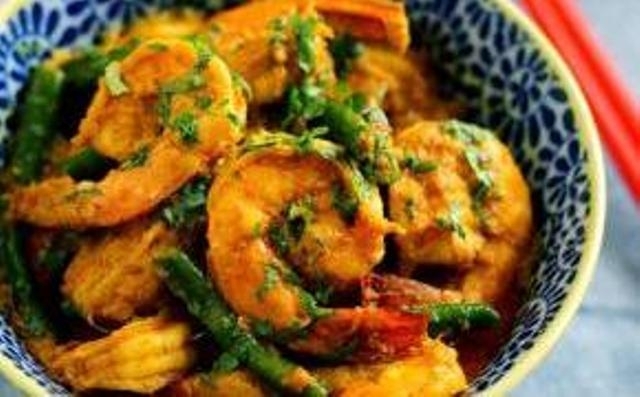 ---
Ingredient:

1 lemongrass
2 shallots
2 cloves garlic
2 tsp ground cumin
2 tsp ground coriander
1 tsp ground tumeric
2 1/2 tsp ground chili powder
2 bird's eye chillies (or chilli padi)
1 tbsp cooking oil
FOR THE CURRY:
350 g prawns
80 g long beans
4 tbsp cooking oil
100 ml water
150 ml evaporated milk
1 tsp fish sauce
salt
sugar
1 tbsp coriander

Method:
Blend all the paste ingredients together until it becomes a smooth paste. Add the tablespoon of cooking oil to help with the mixing.

Heat up the remaining 4 tablespoons of cooking oil in a wok. Stir-fry the paste until aromatic, for approximately 3 to 4 minutes on medium heat.
Add in the prawns and cook for 1 minute or until the half cooked, whichever occurs first.

Add the long beans and give them a quick fry, for approximately 1 minute.
Pour in the water, stir well and continue to cook for another 2 minutes.
Add the evaporated milk and fish sauce and mix well. Put the wok lid on and let it simmer for another 2 to 3 minutes.
Add salt and sugar to taste.

Garnish with the chopped coriander right before serving.
Serve with warm steamed rice.