Minister Silavat and MoS Patel condol families of accident victims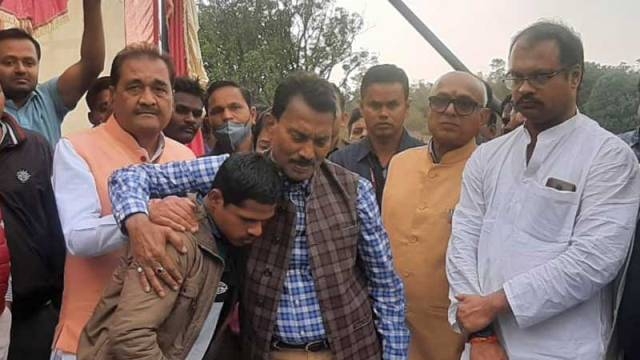 ---
Review relief and rescue operations
Assistance of Rs two lakhs from central government and Rs five lakhs from state government
Assistance of Rs 10 thousand each for the last rites of the dead


Bhopal 16 February 2021: On the instructions of Chief Minister Shivraj Singh Chouhan, Water Resources Minister Tulsiram Silavat and Minister of State for Rural Development Ramkhelavan Patel reached the bus accident site in Sidhi district and took stock of the relief and rescue operations. The Minister met the families of the deceased and expressed their condolences. Water Resources Minister Silavat said that the incident is very sad and unfortunate. A high-level probe has been ordered into the incident. All possible assistance will be provided to the accident victims. In this hour of grief, the government and administration stands with the victims.

Funeral assistance of Rs 10 thousand each for last rites

The district administration gave cash assistance of Rs 10 thousand each to the family members of the deceased for performing the last rites of those who died in the accident.
Centre provides aid along with state government
Chief Minister Chouhan informed that Rs two lakh is being provided to the family of each deceased by the central government and Rs five lakh by the state government. We stand with the families of the victims in this time of grief.
Relief and rescue work by joint teams

On receiving the information about the bus accident, Rewa division Commissioner Rajesh Kumar Jain, IG Umesh Joga and DIG Anil Singh Kushwaha reached the accident site immediately and supervised relief and rescue operations. Teams of police, home guards and NDRF carried out relief and rescue operations. On the instructions of Chief Minister Chouhan, Bansagar canal water was immediately stopped. The crashed bus was ejected with the help of a crane.

Relief and rescue teams recovered the bodies of 45 people killed in the accident. MP Sidhi Reeti Pathak, MLA Churhat Sharadendu Tiwari, MLA Sihawal and former Minister Kamleshwar Patel supervised the relief and rescue work at the accident site. A team of doctors continued to provide services on the spot – Window to News

RELATED NEWS
April 21st, 2021
April 7th, 2021
March 27th, 2021