Kasturba Gandhi –A Life Extraordinary, in Simplicity
Friday - March 5, 2021 2:15 pm ,
Category : WTN SPECIAL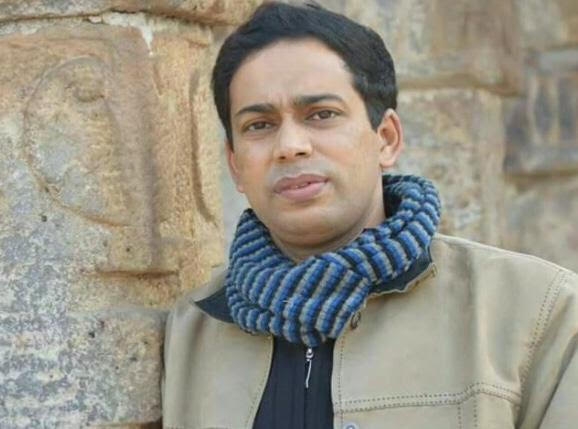 ---
By - Rajdeep Pathak
"I learnt the lesson of non-violence from my wife, when I tried to bend her to my will. Her determined resistance to my will, on the one hand, and her quiet submission to the suffering mystupidity involved, on the other, ultimately made me ashamed of myself and cured me of my stupidity in thinking that I was born to rule over her and, in the end, she became my teacher in non-violence..."

This was Mahatma Gandhi, pouring his heart ou tin his autobiography, "My Experiments With Truth", while writing about his wife Kastur(Ba) Gandhi. Gandhi further records in his autobiography that he learnt his 'first lesson in Satyagraha' from Ba's (as Kastur was popularly called) capacity for silent but firm resistance to any attempt by him to impose his will on her. As their relationship grew, Mahatma Gandhi referred Kasturba as a "Junior Partner" in the freedom struggle.



Biographer of Mahatma Gandhi, Louis Fischer in his book, The Life of Mahatma Gandhi records: "The newly-weds, Gandhi confesses, were 'married children' and behaved accordingly. He was jealous and 'therefore she could not go anywhere without my permission', for, 'I took no time in assuming the authority of a husband.' So when the thirteen-year-old wife wanted to go out to play she had to ask the thirteen-year-old Mohandas; he would often say no. 'The restraint was virtually a sort of imprisonment. And Kasturbai was not the girl to brook any such thing. She made it a point to go out wheneverand wherever she liked.' "
Mohandas Karamchand Gandhi, her husband had all the conviction of stating this fact about Kasturba. Kasturba participated in the Satyagraha in South Africa and suffered jail terms. Gandhi would realise this indomitable spirit of women and was quick to record it too when he talked and felt about women's participation in the freedom struggle, as" Life preserving and humanising force which would prevent the movement from getting dissipated by senseless and self-destructive violence".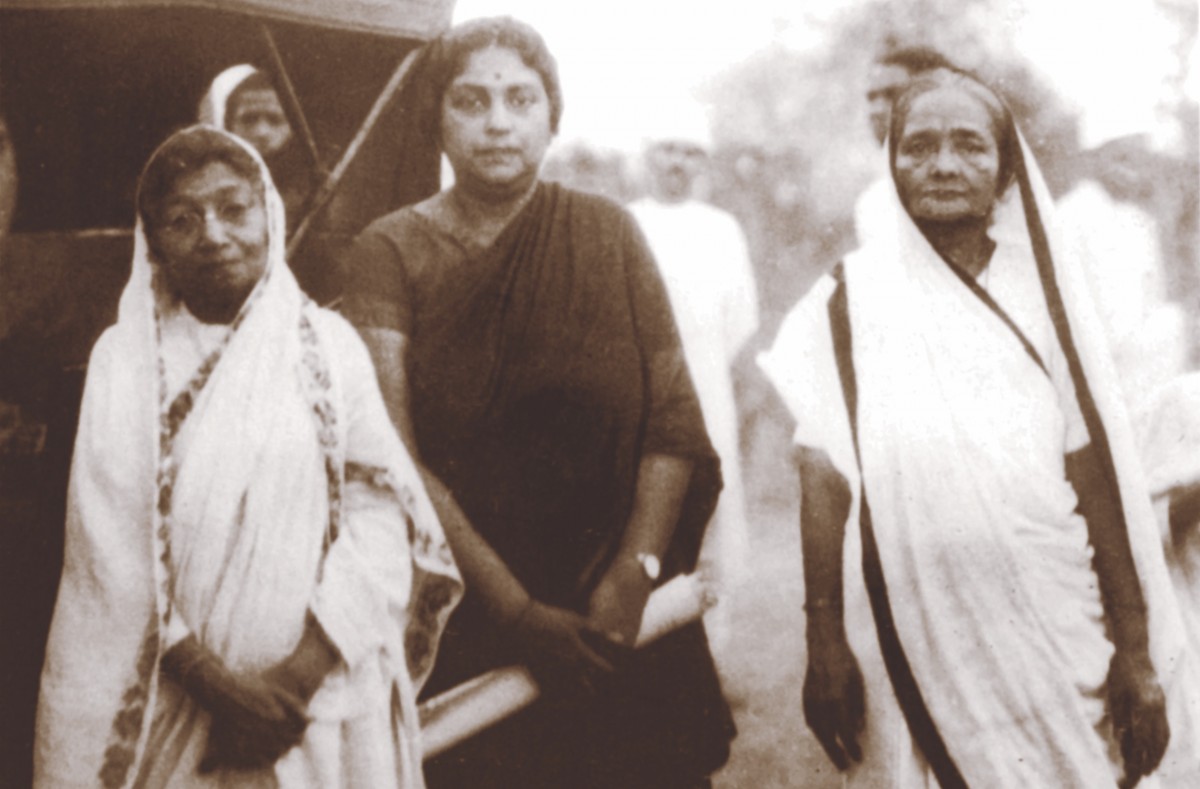 Mahatma Gandhi's strong conviction that women can steer the wheel of change could be understood from the very fact that he developed an immense faith in the inner strength of women. He held that women by nature are endowed with the qualities of love, non-violence, forgiveness and a remarkable capacity for sacrifice. He found women to be worthier interpreters of non-violence than men. A man, as Gandhiji puts, understands Dharma of non-violence through its intellect, whereas, "Women, the very embodiment of renunciation and compassion, have imbedded it even before her birth".

Dr. Savita Singh, former Director of Gandhi Smriti and Darshan Samiti writes in her article "Ba and Bapu –I-II" published in 'The Statesman' newspaper:"Gandhi has acknowledged the debt of his mother, wife and the black women in South Africa and the Suffragette struggle of British women in 1906-07as influences on the evolution of Satygrahafor which he is revered across the world. The attitude of respect and the world understanding of women's problems that he exhibited later in life was derived from his mother and wife. This helped him in his perception of women as equal partners at home and in society and not merely as mothers and wives, but as nation-builders too."

She continues: "In Gandhi's evolution as the upholder of women's cause in course of his visit to South Africa, which was his nursery and where seeds of many of his ideas were sown, it was also his laboratory where they were put to test. Above all, South Africa brought Kasturba to the forefront. It was as though Gandhi rediscovered her.



In the book "The Untold Story of Kasturba, Wife of Mahatma Gandhi", Arun and Sunanda Gandhi with Carol Lynn Yellin while referringto the 'Satyagraha Campaign'led by Mohandas Karamchand Gandhi at Transvaalin South Africa,write: "Isolated though she was at Phoenix Settlement, Kasturba was aware of the importance of Mohandas' work and convinced of the justness of his cause".
When, on January 10, 1908, Mohandas K.Gandhi along with 6 of his fellow Satyagrahis, all prominent in the boycott campaign voluntarily appeared in the court for sentencing and who were sentenced for two months' imprisonment, Kasturba quietly made her announcement. Because, she had heard that prisoners in South African jails were locked in dark cells; that they had to wear coarse, unwashed clothing, that the only food ever served to them, other than an occasional boiled potato or perhaps a tiny portion of unseasoned rice, was "mealy-pap", a tasteless sort of cornmeal porridge, she decided that until her husband was released, she would eat nothing but unsalted, unsweetened, unflavoured cornmeal mush, the very same food he (Gandhi) was served in Johannesburg jail. That was her own personal Satyagrahapledge", the author of "The Untold Story of Kasturba..." records.

The writers continue: "The Phoenix Settlement, in a very real sense, was her household –her joint family. She was the matriarch, the one upon whom all depended, the one who held things together. Thus it was her task in Mohandas' absence to make sure no one became discouraged. She made all of them understand –not just her own sons, but the other settlers as well –that the surest way to keep faith with Mohandas' ideals was to keep up with the work he had outlined for them to do". Bahad her own way of handling things. Though her attitude was never dictatorial, she was a demanding taskmaster."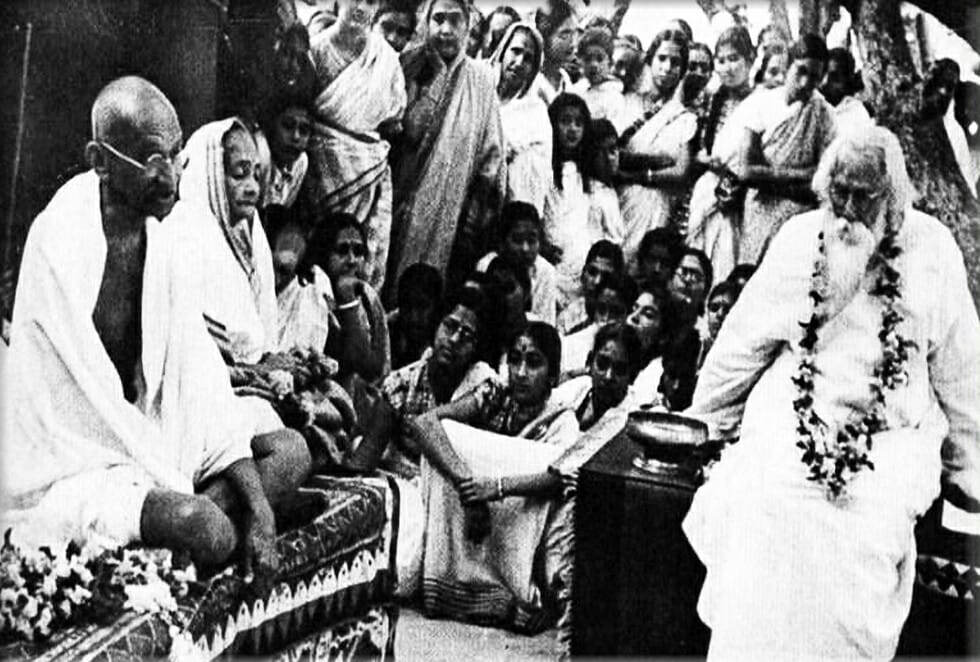 She won the respect, cooperation, and affection of her colleagues –just as she would in future ashrams –not because of her position as Mohandas' wife, nor because of their shared dedication to his cause, but because of her unassuming natural dignity, her unshakable belief in herself", the authors point.

Writing about Ba's sacrifice and steadfastness, they further mention that "Kasturba Gandhi spent virtually her entire life living with the daily all-encompassing reality of Mahatma Gandhi's search for Truth. If his(Gandhi's)experiments required heroic deeds of renunciation, self-denial, and perseverance to attain the spiritual deal of non-attachment; then her (Kasturba's) experiences called for equally valiant acts of relinquishment, self-sacrifice and magnanimity to sustain the human hope of love. The true wonder is that she was able to meet this test on her own terms –with patient conciliation, or, when she felt the occasion so demanded, with lively, defiant, sometimes even playful confrontation.

The success of the 'Satyagraha Movement' whether in South Africa or on the Indian soilwith the participation of women satyagrahis, was gaining grounds. In South Africa, ajudgement by the Supreme Court on March 14, 1913 that any marriage not solemnized according to Christian rites would no longer be legally recognised, created stir amongst communities –Hindu, Muslimsand Parsi Indians –for with a stroke of the pen, the existing marriages were being invalidated. Kasturba Gandhi expressed her concern with her husband, who said: "You women must raise your voices, you women must protest this insult", adding, "You must go to jail, justas the men do".

Ba soon resolved to court arrest. For Satyagraha, the critical moment had come. There were protests all over South Africa as the Union Government's failure to repeal the three-pound tax in Natal, along with the invalidation of non-Christian marriages, had created a new reservoir of potential protesters.

It was on September 23, 1913 Kasturba Gandhi led a fifteen-member Gujarati-speaking Indians (twelve men and four women) from Phoenix to Transvaal. They were treated as "invaders "for non-cooperation and were taken into Maritzburg jail, after their trail and sentenced to three months' hard labour. There Kasturba helped her younger companions find the will and the courage to survive the harsh prison routine. She encouraged them to finish the heavy laundry work and endless sewing tasks assigned daily.This was despite Kasturbai's frugal health. Her calm, enduring optimism was being tested and she triumphed on each occasion.

Hailing the Women's Resolution to oppose the South African Government in this act of theirs, Gandhi wrote in the Indian Opinion–"The remarkable resolution of the Indian women of Johannesburg on the marriage question, that has been agitating our countrymen for the past few weeks, marks an interesting development of the passive resistance campaign. We congratulate our plucky sisters who have dared to fight the Government rather than submit to the insult offered by the judgement".

Back on the Indian soil of Champaran in present-day Bihar, where Gandhi had experimented his first Satyagraha against the atrocities meted out by the British towards indigo farmers, Kasturbaia accompanied him and took on the task of educating the village women in health and hygiene and sanitation. She worked on a district-wide massive sanitation campaign. For years, the men, women and children, ignorant of the consequences of spitting, open defecation, urinating, were posed with various health hazards. Moving about the district with a team of helpers, spending enough time in each village to reach and teach the people, Kasturbai found something she knew how to do –easily, naturally and well. From forming groups of women and teaching them vocational skills in making brooms, and so on,to training the men to clean the wells, change was slow, but evident.

When Ba left Champaran in the spring of 1918, she was content that her work with the women had brought real changes. Village streets were clean, the smells of garbage and filth were gone, people were cleaner in their habits and there was hope blooming.

By now, Kasturbai in seeing her husband Mohandas Karamchand Gandhi's commitment to the service of humanity prepared herself for the trials and tribulations of the life of a wife, a mother and also a co-partner in the freedom struggle. While on the one hand family hardships and deaths had taken a toll on Ba's health, she knew that Mahatma Gandhi had more vigorously plunged himself into the call of freedom. He was pushing himself like never before, travelling constantly, addressing meetings, courting arrests, editing, writing his new journals Young India and Navjivan. The country was keen to see their new messiah.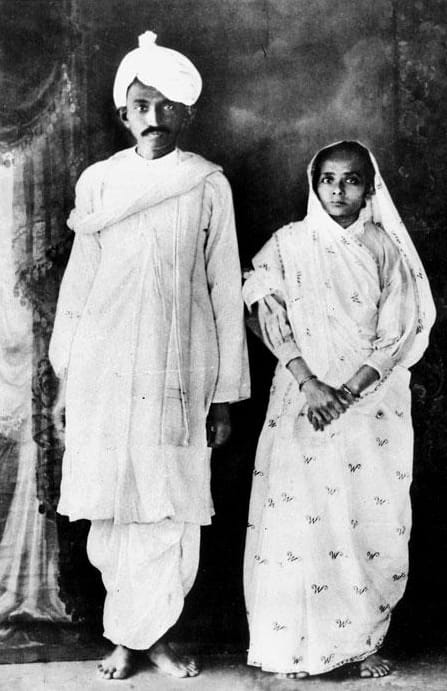 During this time, by 1920 Kasturba Gandhi,along with Gandhiji's trusted lieutenant, Maganlal Gandhi,started overseeing all day-to-day operations at Sabarmati. Gandhi's meteoric rise to pre-eminence was also known to her and Bahad by this time progressed in her thoughts, attitude and she found her commitment to Mahatma Gandhi's cause, increasing with each passing day.

Not just as "deity of the Ashrams" set up by Gandhiji, as she was referred to, but Kasturba's indomitable spirit was seen in 1930 when she initiated women's participation by leading 37 women volunteers from the Ashram at Sabarmati to offer 'Satyagraha' and to demand abolition of the 'Salt Tax'. The Dandi March of March 1930 was inextricably linked with the active participation of women. Under the leadership of Mahatma Gandhi, burning of foreign clothes, picketing of liquor shops and other such activities were predominantly undertaken by women. Mahatma Gandhi had said: "I would love to find that my future army contained a vast preponderance of women over men". 1932 saw Kasturba Gandhi face rigorous imprisonment for six months. She was again imprisoned without trial in her native Rajkot in 1939.

It was in 1942 in the wake of the Quit India Movement, that she was arrested for the last time. Before going to prison, Kasturba Gandhi called upon the women in particular to whom she said:"The women of India have to prove their mettle. They should all join in this struggle irrespective of caste or creed. Truth and non-violence must be our watchwords".

It was because of Kasturba Gandhi's courage and steadfastness which drew out thousands of ordinary women from their traditional homes. This mass participation of the women in the Satyagraha movement by Mahatma Gandhi subsequently became a powerful instrument of political action. It opened the flood gates of women participation and more than anything else, it inspired Mahatma Gandhi to include upliftment of women, as one of the most important constituent of the 'Constructive Programme'.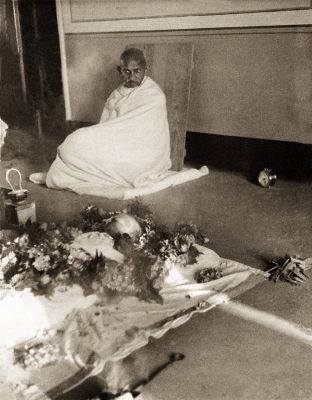 "I have included service of women", Gandhi writes, "In the Constructive Programme, for though Satyagrahahas automatically brought India's women out from their darkness, as nothing else could have in such an incredibly short space of time. My countrymen have not felt the call to see that women become equal partners in the fight for Swaraj(freedom). They have not realised that women must be the true helpmate of man in the mission of service. Women have been suppressed under custom and law for which man was responsible and in the shaping of which she had no hand. In a plan of life based on non-violence, woman has as much right to shape her own destiny as man has to shapehis".
Despite her initial hesitation to join the community service, Kasturba had formed a strong bond with people around her through her steadfastness and determined spirit. She used her inner strength and nurtured it as her strength and weapon. A silent worker, she gradually wove her way to everyone's heart.

Suffering for Ba had now become so natural, that it extended beyond her family. She was finally, and for the last time, sent to imprisonment at the Aga Khan Palace at Pune. It was there on Tuesday, February 22, 1944, the ailing Kasturba finally passed into eternity. Married at thirteen, Mohandas, who was now a spiritual mentor to his wife ,was together imprisoned with her in their 61styear of married life.

Here during their stay together, the long-abandoned educational project was taken up–Ba took to learning English, could now read simple Gujarati and the study of the Bhagawat Gita. Ba was aware of the inevitable hour. Taking a drop of the holy water from the Ganges that Devadas Gandhiher son had brought, she said, "There must be no weeping and mourning. My death should be an occasion for rejoicing".

Kasturba had seen Mohandas in every shade. A boy hell-bent on establishing superiority on account of being older; a child scared of school; a serious but uninspired student; a son hurt by the absence of his father; a father deranged by the untimely death of his son; an infatuated husband; an unemployed English speaking young man grappling with a traditional family's needs who had suddenly grown into an intelligent and capable man after the experience of South Africa.

In this journey with her husband, Kastuba knew that her Mohandas had found his purpose in life and she joined this journey in her own simple, yet dignified way. In this last journey together under house arrest, the guru(teacher) and loving husband has a unique fusion, where the teacher submerges himself as a caring husband.

The next morning of February 23, 1944, Gandhi was by her side, having the last glimpses of Ba when the pyre was set for the final journey.

An extraordinary life woven into such simplicity, Kasturba Gandhi was an epitome of women empowerment. But itwas Mahatma Gandhi who in her Kasturbai, recognised the natural fervour for service for the good of all.

As Dr. Savita Singh, in her book Empowerment of Women: Miles to Go puts it: "A silent worker, she gradually wove her way to every ones heart whosoever had the good fortune of coming into her contact. Amidst tender knowledge of Kasturba's shyness and reserve, he (Gandhi) led her into the liberation movement not only from the political bondage but the liberation of the soul of India, and the entire humanity".

Arun Gandhi, the fifth grandson of Mahatma Gandhi from Manilal Gandhi –who was witness to the difficult, humiliating and often dangerous times under South Africa's apartheid –says while quoting an unknown Eastern philosopher that "Nothing can ever grow under a Banyan tree"and refers to his grandfather Mohandas Karamchand Gandhi's stature as more "Enormous than a Banyan tree",so much so that "His stature dwarfed everyone else. Grandmother, Kastur and my father, Manilal, were two who submerged their identities and blended themselves into his image and philosophy".

He continues: "Neither Kastur, nor my father ever thought about their personal achievements or accomplishments and preferred to merge their lives into that of grandfather. The vision, the quest, the world was more important to them than their personal image", adding, "Without her unstinted cooperation Grandfather could not have achieved the spiritual heights that he did. She made the sacrifice not simply because grandfather wanted her to, but because she was convinced it was the right way".

Grand daughter of Kasturba Gandhi, Smt. Tara Gandhi Bhattacharjee remembers her grandmother as an efficient manager of the Ashrams of which she was the 'presiding deity'. She says, "What comes to my mind even after so many years since she left us was her obsession with cleanliness, her accommodating nature, concern for others. In fact two categories of people were always shown special care in the Ashram –one was the guests, and the other anyone who was unwell. She was a woman of extreme humility, untouched by the status of Bapu. She was equally at home with simple rural women and the greatest contemporary leaders of her time. No one ever went away from the Ashram without seeking Ba's blessings".

In his tribute to Kasturba Gandhi, Lord Richard Attenborough, producer/director of the movie, "GANDHI" wrote:"Ba, as she was known, was an extraordinary woman; forgiving, courageous and incredibly loyal. As Gandhi's most devoted disciple, she was also his severest and most influential critic..."

In conclusion, it is worth recalling the editorial on page one of The Times of India on the following morning of February 22, 1944 as a tribute to Kasturba Gandhi. The newspaper wrote:
Mrs. Gandhi ranks among the great women of India. The keynote of her life was a high steadfast devotion to her husband...Unassuming, gentle, shy of public speaking, the role of a leader hardly suited her. But it was Kasturba's destiny that she should marry one who was to become the most prominent man in Indian public life. For 60 years she was his constant companion, following him through all the vicissitudes of a Mahatma's wife, courting imprisonment with him in the role of a political agitator, picketer, and Satyagrahi... Seldom have the wives of great men earned so much gratitude. She won for herself, perhaps without realising it, a unique place in the memory of theIndian people. A brave woman with a large and kind heart, she was known to India's worshipping millions simply as "Ba" –mother.



As we observed the 77th Nirvan Diwas of Kasturba Gandhi, it is time we know how Kasturba Gandhi greatly contributed to the shaping of the personality of the Mahatma from a shy, not too intelligent boy into one of the shrewdest political leaders and uncompromising fighters of human rights twentieth century has seen and whose relevance is increasingly felt in many areas of modern life. It is also pertinent for young readers to know the simple, yet enigmatic life of Kasturba Gandhi. As Dr Savita Singh puts it, "She (Kasturba) was the staff without whose support the metamorphosis of Mohandas Karamchand Gandhi into Mahatma would have remained an abortive endeavour. Hers' was the silent but strong presence that helped him forge his unique, unconventional ammunition for the attainment of 'Swaraj' –both personal and political".

References:
1.Gandhi Mahatma, My Experiments with Truth; Publishers: Navjivan Trust, Ahmedabad.
2.Fischer Louis; The Life of Mahatma Gandhi;Harper Collins Publishers; Printed at Thomson Press (India) Ltd; 2008.
3.Yellin Lynn Carol with Gandhi Sunanda & Arun; The Untold Story of Kasturba –Wife of Mahatma Gandhi; Published in arrangement with Ozark Mountain Publishing, Huntsville; First Jaico Impression Jaico Publishing House, 2000.
4.Singh Savita; Ba and Bapu -1-II; The Statesman, New Delhi, Wednesday, 19, February 2020.5.Singh Savita; Empowerment of Women: Miles ToGo; Published by International Centre of Gandhian Studies & Research, Gandhi Smriti and Darshan Samiti, New Delhi,2001.6.Singh Savita; Kasturba and Women Empowerment; Published by Gandhi Smriti and Darshan Samiti, as part of the 125th Birth Anniversary Tributes to Kasturba; 1994
RELATED NEWS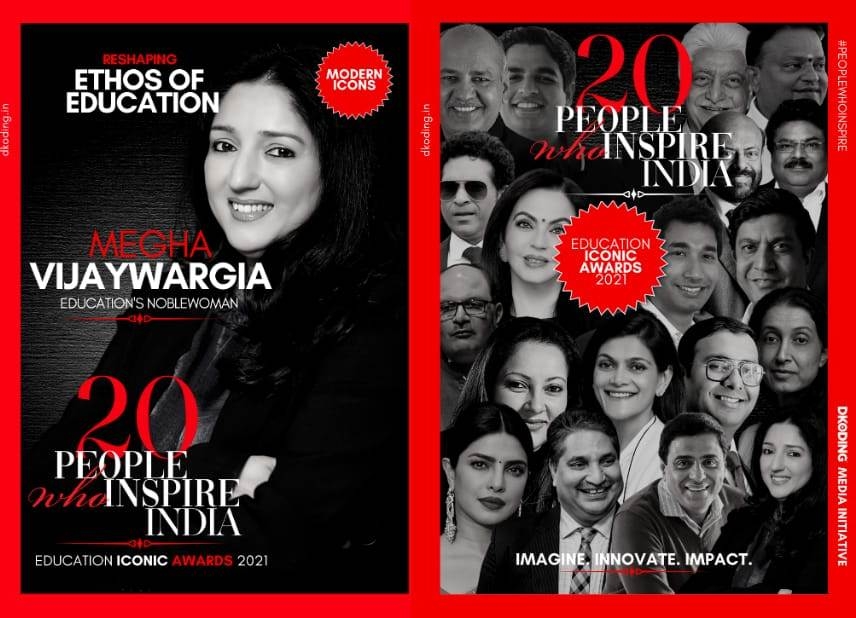 April 16th, 2021
March 18th, 2021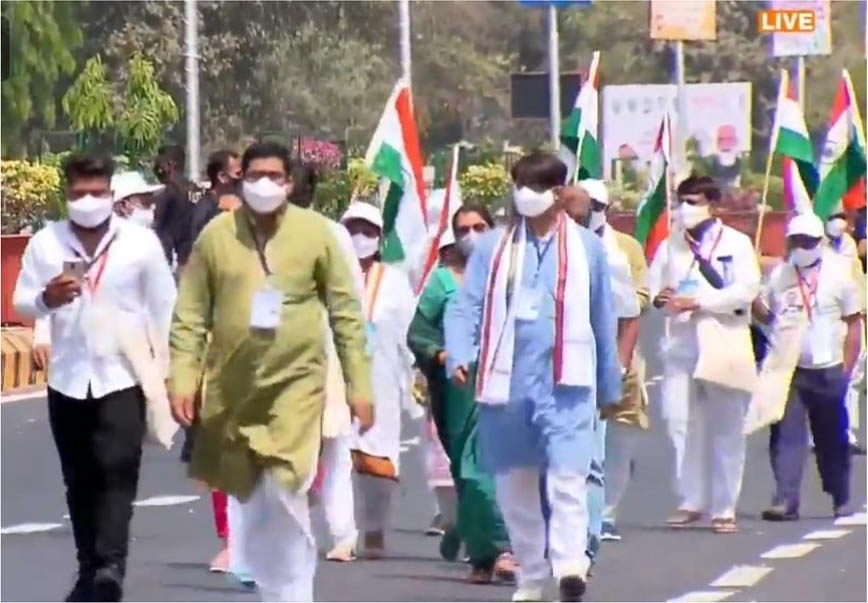 March 13th, 2021