CM Chouhan announces Rs.12 Crore for construction of Houses for Poor at Chandiya of Umaria
---
BHOPAL: Chief Minister Shivraj Singh Chouhan said that public is my life and my God. He further mentioned that to bring prosperity and happiness in the lives of the people is goal of his life. If the people of the state are happy is meaningful being my Chief Minister of the state. He was addressing the gathering under the Jan Darshan programme at Chandiya of Umaria district today. Chouhan said that all round development of Chandiya will be carried out. Chandiya is close to my heart and I love and salute people of Chandiya.
Chiuhan said that no apathy will be tolerated in the development of Chandiya. All round development will be undertaken in Chandiya. He announced Rs. 12 crore for construction of houses for 250 people of poor and weaker section. Also announcement as regard to opening of ITI at Chandiya Nagar Parishad was made by Chouhan. Moreover, a sum of Rs. 5 crore 65 lakh was announced by the Chief Minister Chouhan for repair and reconstruction of roads of Chandiya Nagar Parishad.
CM Chouhan stated that people will not be left without a piece of land. Lease documents are being provided to the people dwelling on government land since last so many years by conducting a campaign in Madhya Pradesh.
Chouhan said that poor welfare agenda will be implemented soon in Madhya Pradesh. He mentioned that food, clothes and self employment is his slogan. All the medical facilities are being provided to the people of the state. Unique schemes like Janani Yojna are being implemented to encourage institutional deliveries besides free medicines and free medical tests. Power to sanction up to Rs. 2 lakh has been given for medical treatment of poor and people of weaker section to the commissioners and collectors.
Chouhan stated that construction of bridges, culverts, hospitals and health centers will be undertaken. Also future of children will be brighten up. Government is providing facilities for higher education of students belonging to SC, ST, OBC and minority category.
It has been decided now that scholarship will be provided by the state government to the poor students of general category. Fee of poor and weaker section students getting admissions in IITs, IIMs, Medical and Engineering colleges will be borne by the state government. Minister for Schedule Tribe Welfare Gyan Singh, Public Representatives and citizens were present in the Jan Darshan Programme.-WTN
RELATED NEWS
February 21st, 2020
February 17th, 2020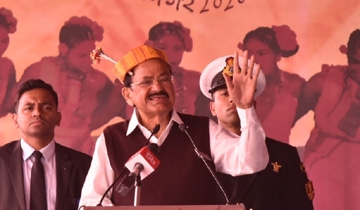 February 15th, 2020